Led by guitarist and singer HC Oakes, the HC Oakes Band covers a wide array of genres including covers of rock, country, blues and folk to original songs written by the band.
Q. What style of music do you play?
A. Rock, Blues, and Country.
Q. How many pieces do you typically lay as and what instruments are they?
A. Six-piece band with drums/percussion, two guitars (electric and acoustic), bass, keys, vocalists.
Q. Do you play in other configurations?
A. Yes, we can play solo, duo, trio, 4 and 5 piece band.
Q. Why did you become a professional musician?
A. I have a passion for music and love listening to and playing all types. As a teenager, I became an avid album collector and started singing and playing guitar in local bands, with a dream of becoming a rock and roll star. The Beatles, Rolling Stones, Neil Young, Sly and The Family Stone, Earth Wind and Fire, Tom Petty, Allman Brothers; they all captured my imagination. Although college and providing for a family prevailed, I always kept music as one of the cornerstones of my life; whether it was playing my guitar and singing, going to concerts or listening for relaxation and fun. I started the HCOB three years ago and we are having the times of our life pursing our passion!
Q. Where are you located?
A. Lake Norman/Charlotte, North Carolina area.
Q. Why should an event professional book you?
A. We are not your typical one genre band – we constantly get favorable feedback on the variety of styles we play during a performance. We take pride in what we do because we are professional, versatile, musically talented, interactive, and have great vocals. Our clients often notice and compliment that we give our all to every song, and we frequently get invited back to play at the same event/venue time and time again. We play all sorts of events including private parties, concert series, county clubs, and festivals. Book us – we will not let you down!
Q. Do you have the capability of providing your own sound & lights?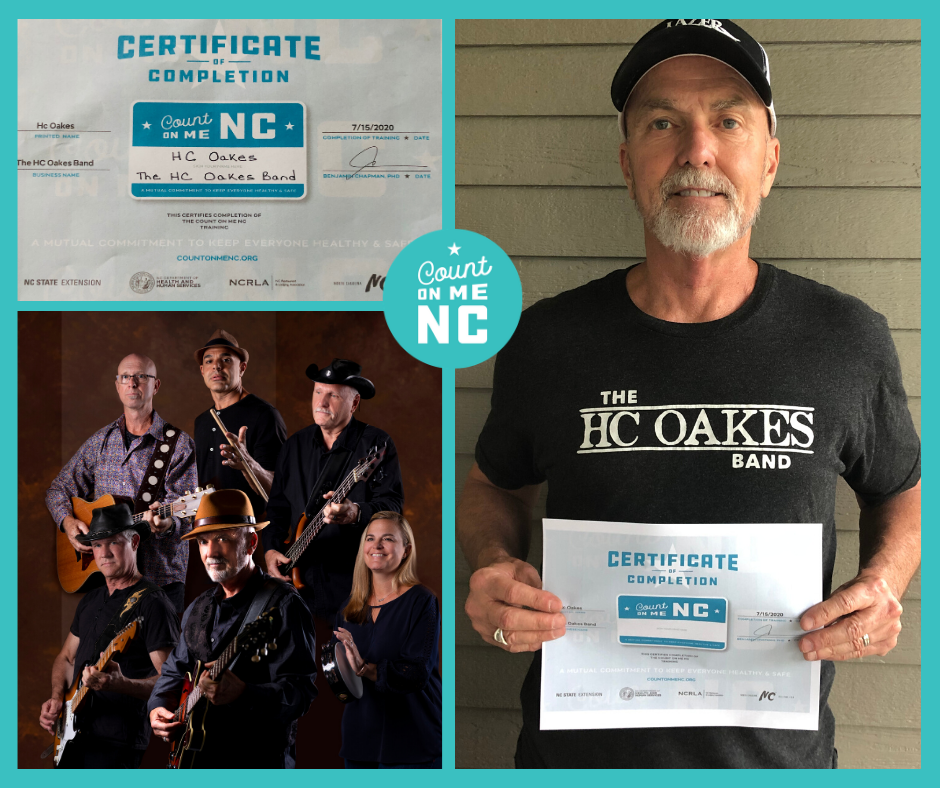 Count On Me NC Certified
HC Oakes has completed the General Best Practices for COVID-19 Management certification training, making sure event safety is a prioroty. Learn more about the certification and training at countonmenc.org. 
HC Oakes Band Song List
Upbeat Songs
Play Guitar – John Melancamp
Lay Down Sally – Eric Clapton
All Right Now – Free
Born To Be Wild – Steppenwolf
Boys Around Here – Blake Shelton
Brown Eyed Girl – Van Morrison
Chicken Fried – Zac Brown
Drink In My Hand – Eric Church
Fast As You – Dwight Yoakam
Feeling Alright Dave Mason / Traffic
Hard to Handle – Black Crowes
I Heard It Through The Grapevine – Temptations
Pink Cadillac – Bruce Spingsteen
One Way Out – Allman Brothers
Old Weakness – Delbert McClinton
Standing On Shaky Ground – Delbert McClinton
Honky Tonk Women – Rolling Stones
Brown Sugar – Rolling Stones
Jumping Jack Flash – Rolling Stones
Sastifaction – Rolling Stones
Sympathy For The Devil – Rolling Stones
You Can't Always Get What You Want – Rolling Stones
Sweet Emotion – Aerosmith
Learn to Fly – Foo Fighters
Little Sister – Elvis Presley
Mustang Sally – Wilson Pickett
Rebel Rebel – David Bowie
Redneck Friend – Jackson Browne
Revolution – Beatles
Rock N Me – Steve Miller
Sweet Home Alabama – Lynyrd Skynyrd
Call Me The Breeze – Lynyrd Skynyrd
Rocking In The Free World – Neil Young
I Won't Back Down – Tom Petty
Refugee – Tom Petty
Listen To Her Heart – Tom Petty
American Girl – Tom Petty
Honey Bee – Tom Petty
Don't Do Me Like That – Tom Petty
Running Down A Dream – Tom Petty
Mary Jane's Last Dance – Tom Petty
You Wreck Me – Tom Petty
Wildflowers – Tom Petty
Sex On Fire – Kings of Leon
Take It Easy – Eagles
The Letter – Boxtops
Gold Digger – HCOB
She's All Mine – HCOB
Rock and Roll Woman – HCOB
She's All Mine – HCOB
Other Rock Songs      
Light My Fire – Doors
All Along The Watchtower – Dylan/Hendrix
Come Together – Beatles
Blue on Black – K W  Shepherd
Crazy Love – Van Morrison
Into The Mystic – Van Morrison
Fire on The Mountain – Marshall Tucker Band
Can't You See – Marshall Tucker Band
For What It's Worth – Buffalo Springfied
Hurricane – Band Of Heathens
Into The Mystic – Van Morrison
Midnight Rider – Allman Brothers
Soulshine – Warren Haynes
Pink Houses – John Mellencamp
Still Have Not Found What I'm Looking For – U2
Tequila Sunrise – Eagles
The Weight – The Band
Up On Cripple Creek – The Band
Friend Of The Devil – Grateful Dead
Truckin – Grateful Dead
The Deal – Jerry Garcia
Gimme Shelter – Rolling Stones
To Love Somebody – Bee Gees
Wish You Were Here – Pink Floyd
Wonderwall – Oasis
Breakdown – Tom Petty
Free Falling – Tom Petty
Into The Great Wide Open – Tom Petty
You Don't Know How It Feels – Tom Petty
The Waiting – Tom Petty
Learning To Fly – Tom Petty
Handle With Care – Traveling Wilbury's
Bring It On Home – Sam Cooke
Down By The River – Neil Young
Dreams – Stevie Nicks
Stop Dragging My Heart Around – Nicks/Petty
Can't Have A Half Without It All – HCOB
Baltimore – HCOB
Photographs of You – HCOB
Johnny Blue – HCOB
Country/ Alt Country/Americana Songs      
Comes A Time – Neil Young
Cover Me Up – Jason Isbell
Dress Blues – Jason Isbell
White Man's World – Jason Isbell
My Church – Maren Morris
Wagon Wheel – Darius Rucker
Coming Home To You – HCOB
Billy – HCOB
White House Road – Tyler Childers
Feathered Indians – Tyler Childers
If It Hadn't Been For Love – Steel Drivers
Fire Away – Chris Stapleton
Tennesse Whiskey – Chris Stapeleton
You and Tequila – K Chesney
Someday – Steve Earle
Folsom Prison Blues – Johnny Cash
Blues Songs   
Oreo Cookie Blues – Mack/Vaughn
Stormy Monday – Allman Brothers
Sweet Home Chicago – Eric Clapton
Cold Hearted Woman – HCOB
Covid Christmas Blues – HCOB
Crying Crazy – HCOB
Storm Warning – HCOB
Solo/Duo Acoustic Songs (In addition to many of the above)        
Angel From Montgomery – John Prine
Paradise – John Prine
Hello In There – John Prine
If I Should Fall Behind – Bruce Springsteen
The River – Bruce Springsteen
I'm On Fire – Bruce Springsteen
Landslide – Stevie Nicks
Danny's Song – Kenny Loggins
Fearless Heart – Steve Earle
Powderfinger  – Neil Young
Old Man – Neil Young
Hey Hey My My – Neil Young
Whiskey and You – Chris Stapleton
Alison – Elvis Costello
Don't Think Twice – Bob Dylan
Tangled Up In Blue – Bob Dylan
Hard Times – Ray Charles
Willing – Little Feat
Wild Horses – Rolling Stones
Poncho And Lefty – Willie Nelson
Angel Flying Too Close To The Ground – Willie Nelson
On The Road Again – Willie Nelson
Thinking Of You Tonight – HCOB
Testimonial from Katarina at Ballantyne Country Club
"They were absolutely fantastic! The members were so happy that we had a group that could play music that they could dance to! HC was so hospitable and was so kind to the members that helped plan this event!"