Event Pros Review Key Signature
Company Profile

Brandon Crumpton, owner of Key Signature Entertainment, started booking live music for events over 15 years ago. He has led the company through a growth period booking and producing entertainment to an average of over 600 events a year. Key Signature Entertainment has 3 full-time employees and has developed an event staff to assist with larger, award-winning events throughout the season. Key Signature Entertainment was chosen as the 2018 Service Provider of the Year by the Charlotte Regional Visitors Authority. This honor was voted on by key decision-makers in Charlotte's hospitality and events industry.
Early in his career, Brandon realized that event professionals and musicians speak a different language. He noticed that both were trying to achieve the same results, but just went about the process differently. He built Key Signature Entertainment with the goal of bridging that communication gap so that both musicians and event professionals could produce successful events safely, effectively and efficiently.
Services offered by Key Signature Entertainment include research, vetting, concert production, and band booking for live, hybrid and virtual events. Our specialty is taking your ideas and creating a fun live music experience for both you and your guests to enjoy.
Key Signature Entertainment is a company of musicians who book musicians. Our motto is "Good People, Good Music." We understand that we are in the people business first and the music business second. We've created an easy process to find, secure, and contract the right entertainment for your event. We understand that it can be difficult to know if the live entertainment you're hiring is both talented and professional, so let us use our expertise in music and people to secure the right fit for your event.
Call us at (704) 568-1968 or go to the "how to book" page to fill out the form, and we'll have a representative contact you to help find, select and secure the right entertainment for your event.
Diversity, Equity & Inclusion Statement

Key Signature Entertainment's mission is to be the full-service live music and entertainment resource for event professionals by building relationships and connecting them to great talent. Our motto is Good People, Good Music which means we're in the people business first and the music business second. Our mission and motto can only be achieved by recognizing and accepting that our differences create the strong relationships that connect the good people who work with us. It is our goal to continue to represent a diverse roster of talent and clients by having open conversations and listening to the concerns and needs of our KSE family.
Meet The Team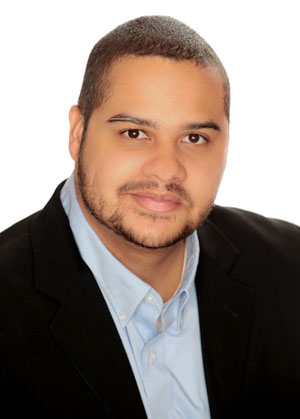 Brandon R. Crumpton
President/Talent Buyer
Brandon Crumpton is the visionary and backbone of the Key Signature Family. He is a very skilled businessman, and has been the owner and president of Key Signature Entertainment since June of 2009. He's always thinking ahead to find the next big move for Key Signature and values continued education, his employees well-being, and always keeps growth and integrity at the forefront of his decisions.  Brandon is the kind of person that starts every day with yoga and a cup of decaffeinated coffee. In his spare time, he enjoys playing with his two cats and reigning as the unbeatable champion of Connect 4. 
Brandon is a simple person, who enjoys good music, sports, and bourbon. He values relationships with anyone he does business with, and has engrained that into the culture of Key Signature. On the occasional weekend, when he doesn't have an event to attend or an HBO show to binge watch, Brandon and his wife enjoy frequenting local breweries or taking low key weekend getaway trips. 
Over the years, Brandon has made an impression on the people he does business with. He's creative yet logical, and he's always honest – even when the truth isn't exactly what someone wants to hear. His respectable qualities are a big part of what has made the name, Key Signature Entertainment, a recognizable and respectable brand across the growing Charlotte and North Carolina region.
For a full bio, click here.
Brandon Crumpton
Brandon is a graduate of Wingate University with a degree in Music Business. Brandon has been in the entertainment and events industry for 14 years.
His journey began as a member of the events programming board at Wingate University. He later interned with a local booking agency here in Charlotte, who then hired him upon graduation. Brandon worked his way up from Assistant to General Manager in only 5 years.
His next step in his professional career landed him at TRIP Hospitality Resources. Brandon assisted with the company's two publications, TRIP Magazine, and Charlotte Hospitality News. This move gave him a better background in sales, and a wider understanding of Charlotte's events and tourism industry.
Brandon was encouraged by TRIP's owner, Charlotte's best musicians, family, and friends to get back into the entertainment industry; thus, Key Signature Entertainment was born. Representing some of the nation's most talented and professional acts, Key Signature provides live entertainment for private parties and special events.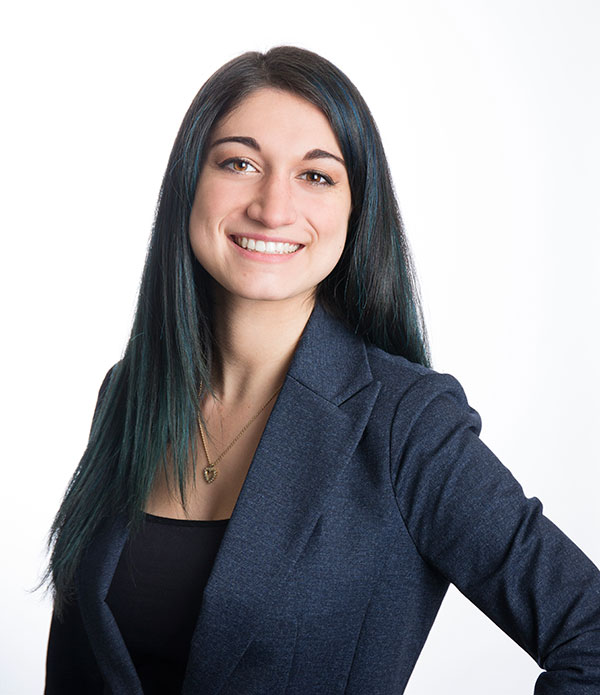 Mikayla S. Mendels
Director of Events/Talent Buyer
Mikayla Mendels is the foundation of our Key Signature family. She is like an oak tree where when the wind blows she sways a little, but is still solid in her roots. Mikayla is the spread sheet queen of the office. She needs to see all of the data and options before making a calculated decision. It is this way of thinking that keeps us all grounded. She is an amazing baker /pickle maker and will probably own a boutique bakery with live music in it one day. Mikayla has an interest in shoe fashion, but does not particularly care to wear them. If dependable was a person it would be Mikayla.
Mikayla is easily recognizable by the blue tint in her hair and leaves a trail of blue evidence everywhere she goes in the office. Her perfect day would somehow consist of yoga, beer or wine, and furry creatures running around her. She'd probably add eating a bagel with cream cheese and smoked salmon on top, but whatever you do, don't take her to Waffle House.
Mikayla has been with Key Signature since May 2017 and is an integral part of our continued success. She enjoys brainstorming and coming up with creative ways to make our customers and musicians' jobs easier. If you ever are lucky enough to get an email from Mikayla, it will have all of the information you need and also the information you didn't know you needed. She is currently the Director of Membership for NACE Charlotte and it is her true character that has gained the trust and respect of the event and music industry.
For a full bio, click here.
Mikayla Mendels
Mikayla graduated from the State University of New York at Fredonia in
December 2016 with a degree in Business Administration with a concentration
in Music Industry and a minor in Communication. With a background in
classical music and experience now working at concert venues, managing
bands, event coordination within the music industry, and internship experiences
with companies such as Atlantic Records, HAIL! Fredonia Records, and KMase Productions, she made the bold move from New York to Charlotte, North
Carolina.
Having no plan but all the determination, Mikayla was hired as an intern at Key
Signature just three months after her move to Charlotte. Soon after, she was
hired full time to pursue a career that involved her love of the music industry
and allowed her to learn and grow with the company.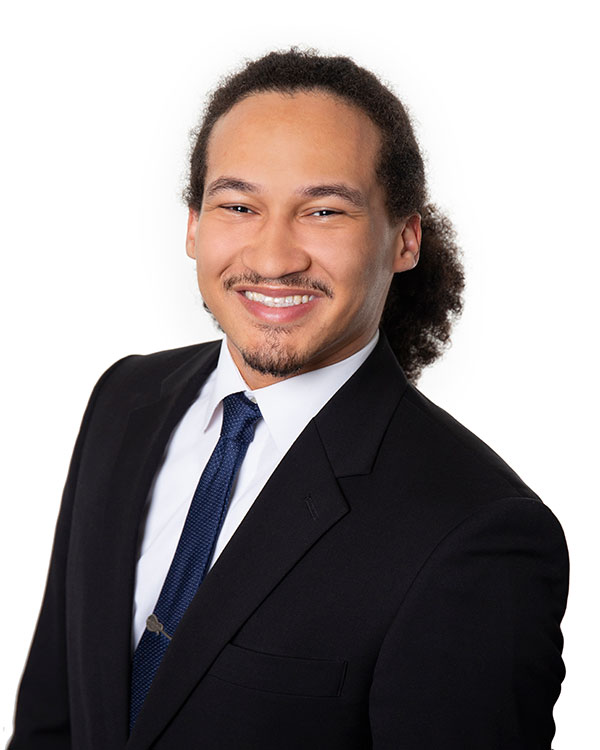 Tius E. Ragan-Johnson
Director of Operations/Talent Buyer
Tius Ragan-Johnson is the heart and soul of the Key Signature family. He is a rock n roll guitar player and hopes to one day be a full-time working musician. The first thing you'll probably notice about Tius is his hair followed by his genuine demeanor and personality. You will also notice that he dresses like he owns a motorcycle, but steps proudly out of his compact car wearing cowboy boots and a bolo tie. Tius is the most honest person you'll ever meet. Its almost like he can't stop telling the truth even when you want him to stop. Its a big reason of why he became such a vital part of the Key Signature Entertainment daily operations.
In addition to being a talented musician, Tius is an avid fisherman. He splits his time between practicing guitar and finding a nice quiet pond or lake to drop his line for a few hours. Tius loves to cook and enjoys trying new things at restaurants. He's also the one we know will finish off all of the leftovers if there are any on the table. You also won't have to twist his arm for him to join you for bottomless mimosas at a brunch buffet either.
Tius's role in the office is that of gate keeper and creative thinker. He listens intently and when he does finally speak you know whatever comes out will be gold. His integrity and honesty is something to be admired and appreciated and we are so lucky to have him on the KSE team!
For a full bio, click here.
Tius Ragan-Johnson
Tius graduated with a Bachelor of Arts degree in Music from UNC-Chapel Hill in
2018, where he studied classical guitar and performed in the Guitar Ensemble
and Men's Glee Club. Since then, he has begun his journey toward building a
career as a full-time working musician, taking every available opportunity to
work in a musical environment. Tius has served as a stagehand for venues across the city of Charlotte, volunteered for Tosco Music's quarterly Music Party, and engaged with musical mentors to help further develop his skill set as a performer.
By early July of 2018, he was hired as the intern at Key Signature Entertainment and quickly became a jack-of-all-trades for the company. After proving himself as an asset to Key Signature's event team, he was hired as the Executive Assistant. Tius has continued to utilize his Swiss Army Knife mentality to further Key Signature's marketing and growth plans.
Awards & Achievements:

2021 – Goldman Sachs 10,000 Small Businesses 
2021, 2022 – Three Best Rated – Top 3 Entertainment Companies in Charlotte, NC
2018 – Charlotte Regional Visitors Authority – Service Provider of the Year Award
2018 – U.S. Small Business Administration Certification
2015 – International Live Events Association – Best Public Event Over 20,000 People Award
2015 – International Live Events Association – Best Entertainment Production Over $25,000 Award
2013 – International Live Events Association – Best Entertainment Production Over $25,000 Award
2013 – International Live Events Association – Best Entertainment Production Under $25,000 Award
2013 – International Live Events Association – Best Team Effort Award
2012 – International Live Events Association – Best Entertainment Production Under $25,000 Award
Our Affiliations:
Key Signature Entertainment is a proud member of the following organizations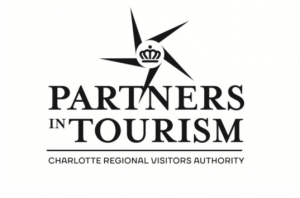 "These guys are great. Excellent communication and quick responses. We had a short amount of time to find some live music, they gave us multiple options with the times and pricing immediately. We made a quick decision and the trio we had playing was excellent. We were very happy with the music they played at the event. They played exactly what we asked and it was not too loud or overwhelming. We will definitely be using them in the future and I would absolutely recommend them to anyone looking for musicians or a musician to play at their event."
"Key Signature always recommends the right artist for each event! With a large range of talent, they are perfect for any event , BIG or small! It's truly a pleasure to work with Brandon, Mikayla, Tius and team as they always responds in a timely manner and never miss a beat! Thank you!!"
"Brandon & his team were excellent partners in securing entertainment for my firm's conference. I trusted Brandon to select an entertainer that fit the needs of my audience, and the end result was a perfect match. The sourcing, planning, and execution was seamless and they were extremely responsive to messages. I look forward to working with KSE in the future. Thank you, Brandon & team!"
"It has been such a pleasure working with Key Signature Entertainment. When looking for local artists, I thought I was going to have to spend hours searching online. They made the process of booking entertainment so easy and they only suggested professional, polite, and of course, talented individuals. From steel drums at a luau-themed cookout to carolers for a holiday party, they have it all!"
"This is the second time I have booked with you guys and I again was extremely happy! [The artist I hired] was so polite, professional, and talented. We will continue to book with you guys. Not only are we satisfied with the talent but you as well are very professional, organized and easy to work with. All of your help is appreciated."
"Dear Brandon – I wanted to thank you for making the planning for our organizations' 25th Anniversary celebration go so smoothly.  Planning our event in Charlotte from Phoenix had its challenges, but working with you was a pleasure.  We appreciated the varied selection of performers for us to consider and that you were conscious of the budget we were working with."
SUBSCRIBE TO OUR NEWSLETTER

Join The Key Signature Mailing List CONTACT US
Key Signature Entertainment
8510 McAlpine Park Dr. Ste 201
Charlotte, NC 28211
704-568-1968
info@keysignatureonline.com