Key Signature Entertainment is a live music booking resource dedicated to connecting customers to talent.
Book a band for your upcoming event by following the steps below. If you prefer to connect with a real person directly, call us at (704)568-1968 or fill out the form on our HOW TO BOOK
page and we will help you find, select, and secure the best live music for your event! 
How to Find a Live Band in 5 Steps
1. You've already taken the first step! You're here on the Key Signature Entertainment live music page, and now have access to our extensive portfolio of live music options! The benefit of working with our company is that we have already vetted all of the talented musicians that you see on this page. We work with them because of mutual respect and trust, so we can confidently recommend these options for your event. 
2. Now that you're in the right place to find a musician or band, it's time to start narrowing down options. Use the filter feature to select the type of event, style of music, and band size that best fits your needs. You can check as many categories as necessary. 
3. Once you've narrowed down your selections using the filter feature, click on individual live music profiles to view more information including bios, videos, pictures, and song lists. 
4. Once you've found one or more options that you like, your options are: 
Click the "BOOK THIS ARTIST" button on the profile of the band that you like 

Go to the "HOW TO BOOK" page on our website and fill out the form, be sure to note the name of the live music option(s) that you're interested in 

Call us at (704)568-1968 and speak with a Key Signature representative about the live music options that you're interested in
5. After we receive your inquiry, a Key Signature representative will reach out to you directly to get more specific information about your event in order to accurately gather the musician's availability and pricing.
Visit our FAQ page to learn more about what is included in live performances, virtual entertainment, our cancellation policy, and more! 
Need a DJ? We know some you can trust. Contact us with your event details and we'll show you how to book.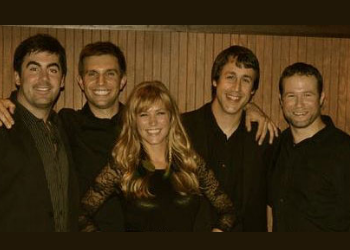 5 on Sundays steals the best music over the past 50 years and blends it together with high energy...
SUBSCRIBE TO OUR NEWSLETTER

Join The Key Signature Mailing List CONTACT US
Key Signature Entertainment
8510 McAlpine Park Dr. Ste 201
Charlotte, NC 28211
704-568-1968
info@keysignatureonline.com