Jeff Brown's genuinely sweet demeanor is one thing that makes him stand out, but his extensive and eclectic song list will make you do a double-take. Since the age of 14, he has built a repertoire totaling around the 700 mark and consisting of tunes from a variety of guitar-based bands, including The Beatles, Simon & Garfunkel, The Rolling Stones, and more.
"At each of my engagements, it is my desire to create the kind of atmosphere that best suits the particular setting and crowd. I can promote any ambiance, from a quiet dinner mood to a lively, danceable bar scene. Very often this can progress from one to the other in the course of an evening."
Q. What style of music do you play?
Q. How many songs do you typically play & what instruments do you play?
A. A typical hour of music is 12-15 songs. I sing and play acoustic guitar, ukulele, banjolele, and harmonica.
Q. Do you play in other configurations?
A. I also work as a duo with either a drummer/percussionist, a bass player, a female vocalist, or a keyboardist.
Q. Why did you become a professional musician?
A. Having grown up listening to records and the radio, I began to identify with pop music.  I started playing guitar as a teenager, and once I began going to concerts, I couldn't get enough of the feeling of being in the same room with hundreds of people listening to music being performed live.  I was hooked, and wanted nothing more than to share that unique experience.
Q. Where are you located?
Q. Do you travel?
A. Depending on the travel compensation, yes!
Q. Why should an event professional book you?
A. My presentation is unique, including percussion backup and loop machine, which gives me more of a band feel. I have been told that my voice is my best instrument, and that I play people's favorite songs! I have a wide variety of songs from most every genre and style, because I grew up listening to all styles of pop music – blues, soul, classic rock/country/psychedelic rock, New Wave, etc. Because of my vast knowledge of music, I enjoy focusing on deep cuts, B-sides, and songs that other musicians don't cover often. My entire repertoire consists of around 700 songs, so I have enough material to play for days without repeating! Also, that means that I have something for everyone (within my style range)! I encourage people to read my Song List and customize their event!
Q. Do you have the capability of providing your own sound & lights?
A. I have everything you need to create an atmosphere ranging from quiet dinner conversation background to lively and upbeat dance party, lights and full setup included!
Song List
Folk/Folk Rock/Rock'n Roll/Classic Rock/Psychedelic Rock/Southern Rock/Country Rock
Al Stewart – Song on the Radio
Al Stewart – Year Of The Cat
Allman Brothers Band – Melissa
Allman Brothers Band – Midnight Rider
Allman Brothers Band – One Way Out
Allman Brothers Band – Ramblin' Man
America – Horse With No Name
America – I Need You
America – Sister Golden Hair
America – Three Roses
America – Ventura Highway
Animals – House Of The Rising Sun
Archies – Sugar Sugar
Arlo Guthrie – Coming Into Los Angeles
Arlo Guthrie – The City Of New Orleans
Atlanta Rhythm Section – Not Gonna Let It Bother Me Tonight
Atlanta Rhythm Section – So Into You
Atlanta Rhythm Section – Spooky
Bad Company – Seagull
Beach Boys – Don't Worry Baby
Beatles – Across The Universe
Beatles – All Together Now
Beatles – Back In The USSR
Beatles – Baby It's You
Beatles – Besame Mucho
Beatles – Blackbird
Beatles – Chains
Beatles – Dear Prudence
Beatles – Do You Want To Know A Secret?
Beatles – Don't Pass Me By
Beatles – Drive My Car
Beatles – Eight Days A Week
Beatles – Eleanor Rigby
Beatles – For You Blue
Beatles – Get Back
Beatles – Got To Get You Into My Life
Beatles – Hard Day's Night
Beatles – Here Comes The Sun
Beatles – Honey Pie
Beatles – I Am The Walrus
Beatles – I Should Have Known Better
Beatles – I Will
Beatles – I'll Be Back
Beatles – I've Just Seen A Face
Beatles – If I Fell
Beatles – It's Only Love
Beatles – Memphis
Beatles – Michelle
Beatles – Norwegian Wood
Beatles – Ob-La-Di-Ob-La-Da
Beatles – One After 909
Beatles – Rocky Raccoon
Beatles – Taxman
Beatles – Things We Said Today
Beatles – Til There Was You
Beatles – Twist and Shout
Beatles – Two of Us
Beatles – You've Got To Hide Your Love Away
Bee Gees – To Love Somebody
Big Bopper – Chantilly Lace
Billy Joel – Just The Way You Are
Billy Joel – Piano Man
Billy Joel – She's Always A Woman
Billy Joel – You May Be Right
Bob Dylan – All I Want To Do
Bob Dylan – Blowin' In The Wind
Bob Dylan – Don't Think Twice, It's All Right
Bob Dylan – Everything's Broken
Bob Dylan – Forever Young
Bob Dylan – If Not For You
Bob Dylan – Knocking On Heaven's Door
Bob Dylan – Lay Lady Lay
Bob Dylan – Like A Rolling Stone
Bob Dylan – Subterranean Homesick Blues
Bob Dylan – The Levee's Gonna Break
Bob Marley – Redemption Song
Bob Seger – Against The Wind
Bob Seger – Still The Same
Bonnie Raitt – Something to Talk About
Box Tops – The Letter
Bruce Cockburn – Wondering Where The Lions Are
Bruce Springsteen – Dancing In The Dark
Bruce Springsteen – Pink Cadillac
Bruce Springsteen – Valentine's Day
Buddy Holly – It Doesn't Matter Anymore
Buddy Holly – Not Fade Away
Canned Heat – Goin' Up The Country
Canned Heat – On The Road Again
Carole King – I Feel The Earth Move
Carole King – Too Late
Carpenters – We've Only Just Begun
Cat Stevens – Another Saturday Night
Cat Stevens – How Can I Tell You
Cat Stevens – Moonshadow
Cat Stevens – The Wind
Cat Stevens – Wild World
Cher – Believe
Chicago – Beginnings
Chicago – Colour My World
Chicago – Saturday In The Park
Christopher Cross – Ride Like The Wind
Christopher Cross – Sailing
Chuck Berry – Johnny B. Goode
Chuck Berry – The Promised Land
Creedence Clearwater Revival – Bad Moon Rising
Creedence Clearwater Revival – Down On The Corner
Creedence Clearwater Revival – Green River
Creedence Clearwater Revival – I Heard It Through The Grapevine
Creedence Clearwater Revival – Lodi
Creedence Clearwater Revival – Who'll Stop The Rain
Crosby Stills Nash & Young – Carry On
Crosby Stills Nash & Young – Helplessly Hoping
Crosby Stills Nash & Young – Our House
Crosby Stills Nash & Young – Southern Cross
Crosby Stills Nash & Young – Wasted On The Way
Crystal Gayle – Don't it Make My Brown Eyes Blue
Dave Mason – We Just Disagree
David Bowie – A Space Oddity
David Bowie – Changes
David Bowie – Jean Genie
David Bowie – Starman
David Bowie – The Man Who Sold The World
Dire Straits – Romeo & Juliet
Dire Straits – So Far Away
Dire Straits – Water of Love
Don McLean – American Pie
Don McLean – Vincent
Doobie Brothers – Black Water
Doobie Brothers – Listen To The Music
Doobie Brothers – Long Train Running
Doors – Love Me Two Times
Doors – People Are Strange
Doors – Roadhouse Blues
Dr. John – Right Place Wrong Time
Eagles – Best Of My Love
Eagles – Desperado
Eagles – Hotel California
Eagles – Lying Eyes
Eagles – Tequila Sunrise
Edison Lighthouse – Love Grows Where My Rosemary Goes
Elton John – Bennie & The Jets
Elton John – Candle In The Wind
Elton John – Crocodile Rock
Elton John – Daniel
Elton John – Goodbye Yellow Brick Road
Elton John – Hercules
Elton John – Honky Cat
Elton John – Mad Man Across The Water
Elton John – Mona Lisas and Mad Hatters
Elton John – Rocket Man
Elton John – The Bitch Is Back
Elton John – Tiny Dancer
Elton John – Your Song
Emerson Lake & Palmer – Still You Turn Me On
Emerson, Lake & Palmer – From The Beginning
Eric Clapton – Lay Down Sally
Eric Clapton – Layla
Eric Clapton – Let It Grow
Eric Clapton – Promises
Eric Clapton – Tears In Heaven
Eric Clapton – Wonderful Tonight
Everly Brothers – Wake Up Little Susie
Fleetwood Mac – Don't Stop
Fleetwood Mac – Gold Dust Woman
Fleetwood Mac – Landslide
Fleetwood Mac – Never Going Back Again
Fleetwood Mac – Say You Love Me
George Michael – Faith
Gerry Rafferty – Baker Street
Gerry Rafferty – Right Down The Line
Glen Hansard/Marketa Irglova – Falling Slowly
Gordon Lightfoot – If You Could Read My Mind
Gordon Lightfoot – Sundown
Grateful Dead – Big Boss Man
Grateful Dead – Dark Hollow
Grateful Dead – Deal
Grateful Dead – Dire Wolf
Grateful Dead – Franklin's Tower
Grateful Dead – Friend of the Devil
Grateful Dead – Half Step Mississippi Uptown Toodeloo
Grateful Dead – I've Been All Around This World
Grateful Dead – It Must've Been The Roses
Grateful Dead – Jackaroe
Grateful Dead – Ripple
Grateful Dead – Rosalie McFall
Grateful Dead – Ship Of Fools
Grateful Dead – Sugar Magnolia
Grateful Dead – Touch Of Grey
Gregg Allman – Don't Mess Up A Good Thing
Harry Chapin – Cat's In The Cradle
Heart – Dreamboat Annie (Fantasy Child)
Hollies – Long Cool Woman (In A Black Dress)
INXS – Never Tear Us Apart
J. J. Cale – After Midnight
J. J. Cale – Call Me The Breeze
Jackson Browne – Doctor My Eyes
Jackson Five – I Want You Back
James Brown – I Got You (I Feel Good)
James Taylor – Carolina In My Mind
James Taylor – Country Road
James Taylor – Don't Let Me Be Lonely Tonight
James Taylor – Fire & Rain
James Taylor – Long Ago and Far Away
James Taylor – Mexico
James Taylor – Sweet Baby James
James Taylor – Up On the Roof
James Taylor – You Can Close Your Eyes
Jefferson Airplane – Somebody To Love
Jefferson Starship – Miracles
Jefferson Starship – With Your Love
Jerry Garcia – Catfish John
Jerry Garcia – Deal
Jerry Reed – Amos Moses
Jethro Tull – Locomotive Breath
Jethro Tull – Mother Goose
Jim Croce – Bad, Bad Leroy Brown
Jim Croce – I'll Have To Say I Love You In A Song
Jim Croce – Operator
Jim Croce – Time In A Bottle
Jim Croce – Workin' At The Carwash Blues
Jim Croce – You Don't Mess Around With Jim
Jimi Hendrix – Angel
Jimi Hendrix – Castles Made Of Sand
Jimi Hendrix – Little Wing
Jimi Hendrix – The Wind Cries Mary
Jimmy Buffett – A Pirate Looks At Forty
Jimmy Buffett – If The Phone Doesn't Ring, It's Me
Jimmy Buffett – That's My Story, And I'm Stickin' To It
Jimmy Cliff – I Can See Clearly Now
Jimmy Rodgers – Blue Yodel #9
Jimmy Rodgers – In The Jailhouse Now
John Denver – Annie's Song
John Denver – Take Me Home Country Roads
John Fogerty – The Old Man Down The Road
John Lennon – Imagine
John Lennon – Instant Karma
John Lennon – Watching The Wheels
John Prine – Hello In There
John Prine – Paradise
John Prine – Spanish Pipedream
Johnny Cash – (Ghost) Riders In The Sky
Johnny Cash – Folsom Prison Blues
Johnny Rivers – Secret Agent Man
Joni Mitchell – Big Yellow Taxi
Joni Mitchell – Free Man In Paris
Jorma Kaukonen – Embryonic Journey
Jorma Kaukonen – Genesis
Jorma Kaukonen – Good Shepherd
Jorma Kaukonen – Hesitation Blues
Judy Garland – I'm Always Chasing Rainbows
King Harvest – Dancing In The Moonlight
Kinks – A Well-Respected Man
Kinks – LOLA
Kinks – Sunny Afternoon
Kiss – Hard Luck Woman
Kris Kristofferson – Me & Bobby McGee
Led Zeppelin – Black Dog
Led Zeppelin – Bron-Y-Aur Stomp
Led Zeppelin – Dancing Days
Led Zeppelin – Going To California
Led Zeppelin – Thank You
Led Zeppelin – The Rain Song
Led Zeppelin – When The Levee Breaks
Leon Russell – Tight Rope
Lionel Ritchie – All Night Long
Little Walter – Just Your Fool
Loggins & Messina – Danny's Song
Loggins & Messina – House At Pooh Corner
Loggins & Messina – Your Mama Don't Dance
Looking Glass – Brandy
Lynyrd Skynyrd – Ballad of Curtis Loew
Lynyrd Skynyrd – Simple Man
Lynyrd Skynyrd – Tuesday's Gone
Madness – Our House
Mamas & Papas – Dream A Little Dream
Mark Knopfler – Marbletown
Marshall Tucker Band – Searching For A Rainbow
Marvin Gaye – How Sweet It Is (To Be Loved By You)
Marvin Gaye – I Heard It Through The Grapevine
Marvin Gaye – Inner City Blues (Makes Me Wanna Holler)
Michael Martin Murphy – Wildfire
Mike Cross – The Bounty Hunter
Mike Cross – The Lord'll Provide
Monkees – Daydream Believer
Monkees – I'm A Believer
Monkees – Last Train To Clarksville
Monkees – Pleasant Valley Sunday
Moody Blues – Nights In White Satin
Moody Blues – Question
Moody Blues – The Story In Your Eyes
Neil Diamond – I'm A Believer
Neil Young – Broken Arrow
Neil Young – Comes A Time
Neil Young – Don't Let It Bring You Down
Neil Young – Harvest Moon
Neil Young – Heart Of Gold
Neil Young – Hey Hey My My (Into The Black)
Neil Young – Human Highway
Neil Young – I Am A Child
Neil Young – Look Out For My Love
Neil Young – Lotta Love
Neil Young – Love Is A Rose
Neil Young – Mr. Soul
Neil Young – Old Man
Neil Young – Sugar Mountain
Nitty Gritty Dirt Band – An American Dream
Patti Smith – Because The Night
Paul McCartney – Bluebird
Paul McCartney – Calico Skies
Paul McCartney – Heart Of The Country
Paul McCartney – Maybe I'm Amazed
Paul McCartney – My Love
Paul Simon – American Tune
Paul Simon – Kodachrome
Paul Simon – Late In The Evening
Paul Simon – Learn How To Fall
Paul Simon – Me & Julio Down By The School Yard
Paul Simon – One Man's Ceiling Is Another Man's Floor
Paul Simon – Something So Right
Paul Simon – Was A Sunny Day
Paul Simon – You Can Call Me Al
Paul Simon- Slip Sliding Away
Peter Frampton – Baby I Love Your Way
Peter Gabriel – In Your Eyes
Peter Gabriel – Solsbury Hill
Peter Paul & Mary – Leaving On A Jet Plane
Pink Floyd – Brain Damage
Pink Floyd – Breathe
Pink Floyd – Dogs
Pink Floyd – Fat Old Sun
Pink Floyd – Fearless
Pink Floyd – Goodbye Blue Sky
Pink Floyd – Grantchester Meadows
Pink Floyd – San Tropez
Pink Floyd – Time
Pink Floyd – Wish You Were Here
Queen – Crazy Little Thing Called Love
Queen – Good Company
Queen – You're My Best Friend
R. B. Greaves – Take A Letter Maria
Rare Earth – I Just Want To Celebrate
Rod Stewart – Ooh La La!
Rod Stewart – Reason To Believe
Rolling Stones – (I Can't Get No) Satisfaction
Rolling Stones – Angie
Rolling Stones – Country Honk
Rolling Stones – Dead Flowers
Rolling Stones – Faraway Eyes
Rolling Stones – It's All Over Now
Rolling Stones – Love In Vain
Rolling Stones – Miss You
Rolling Stones – Play With Fire
Rolling Stones – The Last Time
Rolling Stones – Waiting On A Friend
Rolling Stones – Wild Horses
Rolling Stones – You Can't Always Get What You Want
Romantics – What I Like About You
Roy Orbisson – Blue Bayou
Roy Orbisson – Dream Baby
Roy Orbisson – You Got It
Ruby & The Romantics – Our Day Will Come
Rupert Holmes – Escape (The Pina Colada Song)
Santana – Put Your Lights On
Seals & Crofts – Summer Breeze
Shocking Blue – Venus
Simon & Garfunkel – America
Simon & Garfunkel – Hazy Shade Of Winter
Simon & Garfunkel – Homeward Bound
Simon & Garfunkel – Kathy's Song
Simon & Garfunkel – Mrs. Robinson
Simon & Garfunkel – Scarborough Fair
Simon & Garfunkel – The Boxer
Simon & Garfunkel – The Sound Of Silence
Smokey Robinson & The Miracles – Tracks of My Tears
Stealers Wheel – Stuck In The Middle With You
Steely Dan – Black Friday
Steely Dan – Do It Again
Steely Dan – Peg
Steely Dan – Rikki Don't Lose That Number
Steppenwolf – Tenderness
Steve Miller Band – Rockin' Me Baby
Steve Miller Band – Serenade
Steve Miller Band – The Joker
Steven Stills – Johnny's Garden
Steven Stills – Love The One You're With
Sting – Fields Of Gold
Sting – Fragile
Supertramp – Even In The Quietest Moments
Three Dog Night – Mama Told Me Not To Come
Three Dog Night – Shambala
Tom Petty – Angel Dream
Tom Petty – Breakdown
Tom Petty – Mary Jane's Last Dance
Tom Petty – Runnin' Down A Dream
Tom Petty – Wildflower
Tom Petty – You Don't Know How It Feels
Tom Petty – You Wreck Me
Tommy James – Draggin' The Line
Traffic – Feelin' Alright
Turtles – Happy Together
Unit Four +2 – Concrete And Clay
Van Morrison – And It Stoned Me
Van Morrison – Brown-Eyed Girl
Van Morrison – Crazy Love
Van Morrison – Domino
Van Morrison – Have I Told You Lately
Van Morrison – Into The Mystic
Van Morrison – Moondance
Van Morrison – Wild Nights
Warren Zevon – Carmelita
Warren Zevon – I Was In The House (When The House Burned Down)
Warren Zevon – Lawyers, Guns and Money
Warren Zevon – Werewolves Of London
Who – Behind Blue Eyes
Who – Love Reign O'er Me
Who – Pinball Wizard
Who – Squeeze Box
Jazz/Dixieland Jazz/Smooth Jazz/Standards/Instrumental//Club/Lounge/Pop
Ager / Yellen – Ain't She Sweet
Andy Williams – Sunny
Bayes & Norworth – Shine On Harvest Moon
Bernie / Pinkard / Casey – Sweet Georgia Brown
Carmichael & Washington – The Nearness Of You
Chris Isaak – Wicked Game
Cole Porter – I Get A Kick Out Of You
Dave Brubeck Quartet – Take Five
Dionne Warwick – I'll Never Fall In Love Again
Etta James – At Last
Etta James – Crazy
Fats Waller – I'm Gonna Sit Right Down and Write Myself A Letter
Flamingos – I Only Have Eyes For You
Frank Sinatra – Fly Me To The Moon
Frank Sinatra – My Funny Valentine
Frank Sinatra – Something Stupid
Frankie Valli & The Four Seasons – Can't Take My Eyes Off You
George & Ira Gershwin – I've Got A Crush On You
George & Ira Gershwin – I've Got A Crush On You
George Gershwin – Summertime
George Michael – Careless Whisper
Gimbel & Valle – Summer Samba (So Nice)
Harold Arlen / E.Y. Harburg – If I Only Had A Brain / Over The Rainbow
Harry Bellafonte – Jamaica Farewell
Howard & Emerson – Hello! My Baby
Irving Berlin – Cheek to Cheek
Irving Berlin – Let's Face The Music and Dance
Izzie Kamakawiwo'ole – Over The Rainbow / What A Wonderful World
Jobim / Morales & Gimbel – The Girl From Ipanema
Joni Mitchell – A Case Of You
Leon Russell – A Song For You
Leon Russell – This Masquerade
Louis Armstrong – Hello Dolly!
Mack & Johnson – The Charleston
McHugh & Fields – I Can't Give You Anything But Love
Nat King Cole – L-O-V-E
Neil Diamond – Red, Red Wine
Neil Diamond – Sweet Caroline
Ray Charles – Georgia On My Mind
Rod Stewart – You're In My Heart
Santo & Johnny Farina – Sleepwalk
Stephen Sondheim – Send In The Clowns
Tony Bennett – The Shadow Of Your Smile
Tony Bennett – The Way You Look Tonight
Waller / Brooks / Razaf – Ain't Misbehavin'
R&B/Soul/Blues/Beach
Al Green – Let's Stay Together
Al Green – Take Me To The River
Aretha Franklin – Freeway Of Love
Ben E. King – Stand By Me
Bill Withers – Ain't No Sunshine
Bill Withers – Use Me
Bobby Bland – Turn On Your Love Light
Drifters – Save The Last Dance For Me
Drifters – Under The Boardwalk
Gladys Knight & The Pips – Midnight Train To Georgia
Howlin' Wolf – Spoonful
Otis Redding – (Sittin' On) The Dock Of The Bay
Platters – Smoke Gets In Your Eyes
Ray Charles – I Can't Stop Loving You
Sam Cooke – What A Wonderful World (Don't Know Much About History)
Shirelles – Baby It's You
Shirelles – Will You Still Love Me Tomorrow
Smokey Robinson – You've Really Got A Hold On Me
Spencer Davis Group – Gimme Some Lovin'
Spinners – Could It Be I'm Falling In Love
Stevie Wonder – Don't You Worry 'Bout A Thing
Stevie Wonder – I Wish
Stevie Wonder – Superstition
Stevie Wonder – You Are The Sunshine Of My Life
Temptations – Ain't Too Proud To Beg
Temptations – My Girl
Temptations – The Way You Do The Things You Do
Willie Dixon – I Just Want To Make Love To You
Willie Dixon – Whole Lotta Love
Wilson Pickett – Mustang Sally
Country/Country Pop/Rockabilly
Buck Owens – Act Naturally
Carl Perkins – Honey Don't
Charlie Rich – When We Get Behind Closed Doors
Doc Watson – Deep River Blues
Dolly Parton – Jolene
Elvis Presley – Can't Help Falling In Love
Elvis Presley – Suspicious Minds
Freddy Fender – Wasted Days and Wasted Nights
Garth Brooks – Friends In Low Places
George Jones – The Race Is On
Glen Campbell – Southern Nights
Hank Williams – I Can't Help It If I'm Still In Love With You
Johnny Cash – Big River
Johnny Cash – Ring Of Fire
Lefty Frizzell – If You've Got The Money, I've Got The Time
Merle Haggard – Mama Tried
Stray Cats – Stray Cat Strut
Willie Nelson – Blue Eyes Crying In the Rain
Willie Nelson – Crazy
Willie Nelson – He Was A Friend Of Mine
Willie Nelson – I Gotta Get Drunk
Willie Nelson – Valentine
New Wave/Punk/80's Rock
Adam Ant – Goody Two Shoes
B52s – Dirty Back Road
B52s – Give Me Back My Man
Blondie – Rapture
Cars – Drive
Cure – Boys Don't Cry
Cure – Friday, I'm In Love
Cure – Just Like Heaven
Devo – Freedom Of Choice
Elvis Costello – Alison
Elvis Costello – Miracle Man
Elvis Costello – Mystery Dance
Elvis Costello – Radio Sweetheart
Elvis Costello – Watching The Detectives
Eurythmics – Here Comes The Rain Again
Eurythmics – Sweet Dreams (Are Made Of This)
Madness – Our House in the Middle of our Street
Men at Work – Overkill
Modern English – I Melt With You
Police – De Do Do Do De Da Da Dav
Police – Message In A Bottle
Police – Wrapped Around Your Finger
Pretenders – Back On The Chain Gang
REM – Don't Go Back To Rockville
REM – Losing My Religion
REM – Man On The Moon
REM – The Great Beyond
REM – The One I Love
Soft Cell – Tainted Love
Talking Heads – Psycho Killer
Talking Heads – And She Was
Talking Heads – Heaven
Talking Heads – Life During Wartime
Talking Heads – This Must Be The Place (Naive Melody)
Talking Heads – Wild, Wild Life
Tears For Fears – Everybody Wants To Rule The World
Tears For Fears – Mad World
Contemporary Rock/Pop 1980 – present
Adam Sandler – Grow Old With You
Barenaked Ladies – Pinch Me
Ben Harper – Diamonds On The Inside
Chumbawamba – Tubthumping
Coldplay – God Put A Smile Upon Your Face
Coldplay – Green Eyes
Coldplay – Sparks
Coldplay – We Never Change
Coldplay – Yellow
Counting Crows – Round Here
Daniel Powter – Bad Day
Dave Matthews Band – Crash Into Me
Dave Matthews Band – Gravedigger
Dave Matthews Band – So Much To Say
Dave Matthews Band – Stay Or Leave
Dave Matthews Band – Where Are You Going
David Gray – Babylon
David Gray – My Oh My
David Gray – Sail Away
Five For Fighting – Superman
Foo Fighters – Everlong
Foo Fighters – Skin & Bones
Foo Fighters – Times Like These
Goo Goo Dolls – Acoustic #3
Green Day – Good Riddance (The Time Of Your Life)
Guster – Amsterdam
Howie Day – Collide
Incubus – Drive
Indigo Girls – Closer To Fine
Indigo Girls – The Power Of Two
Jack Johnson – Better Together
Jack Johnson – Breakdown
Jack Johnson – Broken
Jack Johnson – Cookie Jar
Jack Johnson – Flake
Jack Johnson – Holes To Heaven
Jack Johnson – Inaudible Melodies
Jack Johnson – Rodeo Clowns
Jack Johnson – Sitting Waiting Wishing
Jack Johnson – Upside Down
Jack Johnson – Wasting Time
Jayhawks – Save It For A Rainy Day
John Mayer – Clarity
John Mayer – Gravity
John Mayer – Your Body Is A Wonderland
Kenny Wayne Shepherd – Blue On Black
Lenny Kravitz – Fly Away
Lumineers – Flowers In Your Hair
Lumineers – Stubborn Love
Matchbox Twenty – Unwell
Michael Buble – Everything
Mumford & Sons – I Will Wait
Nine Inch Nails – Hurt
Oasis – Wonderwall
Old Crow Medicine Show – Wagon Wheel
OMC – How Bizarre
Phillip Phillips – Home
Phish – Waste
Prince – 1999
Proclaimers – I'm Gonna Be (500 Miles)
Radiohead – Creep
Radiohead – Fake Plastic Trees
Radiohead – High And Dry
Radiohead – House Of Cards
Radiohead – Nice Dream
Radiohead – Paranoid Android
Radiohead – Street Spirit
Ryan Adams – Afraid Not Scared
Ryan Adams – My Winding Wheel
Ryan Adams – New York, New York
Ryan Adams – Oh My Sweet Carolina
Soul Asylum – Runaway Train
Soundgarden – Black Hole Sun
Toad the Wet Sprocket – All I Want
Toad the Wet Sprocket – Walk On The Ocean
Tom Cochrane – Life Is A Highway
Tracy Chapman – Baby Can I Hold You
Tracy Chapman – Fast Car
Tracy Chapman – Give Me One Reason
Tracy Chapman – New Beginning
Train – Calling All Angels
Traveling Wilburies – Handle With Care
Traveling Wilburies – It's Alright
U2 – All I Want Is You
U2 – Bad
U2 – Desire
U2 – In A Little While
U2 – Love Is Blindness
U2 – One
U2 – Staring At The Sun
U2 – Where The Streets Have No Name
U2 – With Or Without You
Uncle Kracker – Follow Me
Vicki Lawrence – The Night The Lights Went Out In Georgia
Waylon Jennings – Good-Hearted Woman
Widespread Panic – Airplane
Wood Brothers – Happiness Jones
Wood Brothers – I Got Loaded
Yeah Yeah Yeahs – Maps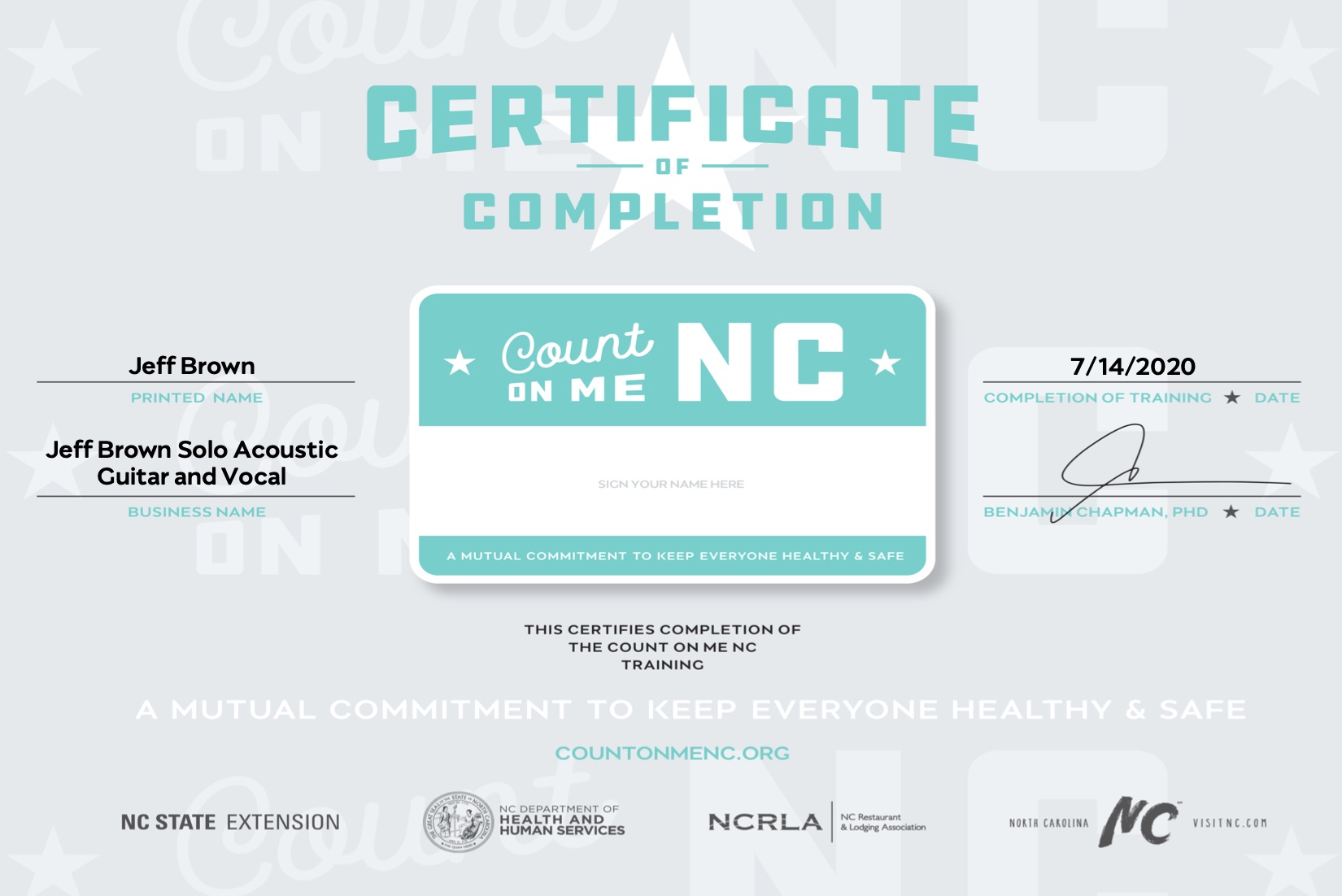 Count On Me NC Certified
Jeff Brown has completed the General Best Practices for COVID-19 Management certification training, making sure event safety is a prioroty. Learn more about the certification and training at countonmenc.org. 
"Jeff Brown was absolutely fantastic and the perfect pair for our event. We received great feedback from the attendees on their way out on the music, which is always nice to hear. We would definitely hire him again for this event, and others in the future."