Playing Reggae, Calypso, R&B, and Afro-Latin Jazz, World music percussionist Nate Brown is well-known as a steel pan player as well as a Djembe and conga drum artist.
Originally from NYC, Nate Brown has been playing drums most of his life.  From playing drums as a youngster with the "Travelers Drum and Bugle Corp" under the direction of his uncle George Brown, to playing steel pan with "The Harlem Maestros Steel Band" under the direction of pan master Kim Loy Wong, Nate has been trained in many styles of percussion, from traditional marching band to Afro-Latin, Caribbean, Hip Hop, GoGo, Jazz and more!
What style of music do you play?
Latin Jazz, Caribbean, Beach, and Pop Favorites.
How many pieces do you typically play as & what instruments are they?
I am a solo artist playing Steel Pan and Latin Percussion .
Do you play in other configurations?
Why did you become a professional musician?
I became a musician to better express myself through music.  I totally enjoy sharing my gift.
Do you travel?
Yes, I travel but limited to areas surrounding North and South Carolina unless adequate travel arrangements are agreed upon.
Why should an event professional book you?
I always try my best to cater to each client's needs.  Being a soloist, I am affordable and don't need much space or setup time.  I pride myself on keeping a diverse repertoire in order to attempt to please each client's personal and musical requests.
Do you have the capability of providing your own sound & lights?
I have multiple sound systems for large and small venues but no lights.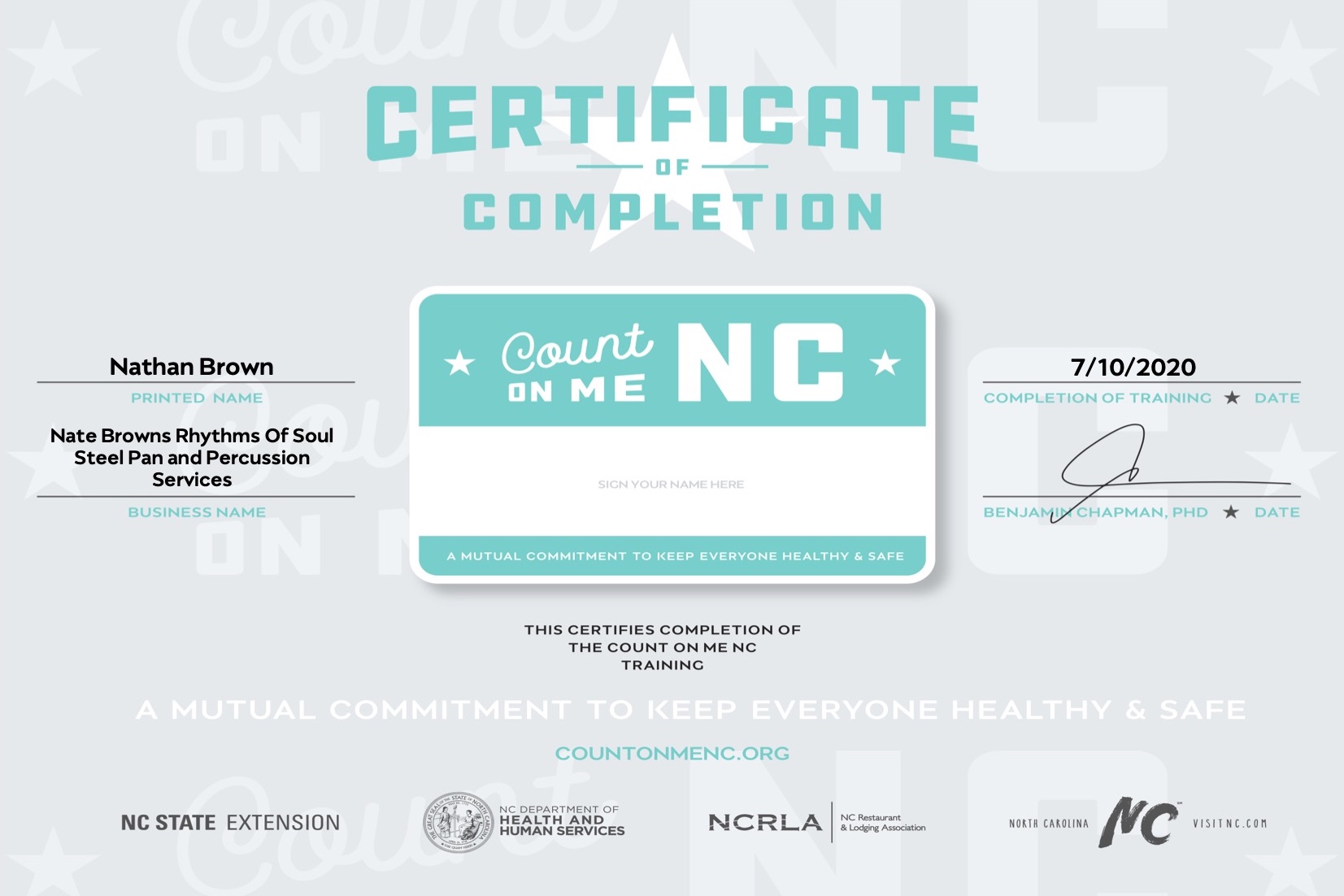 Count On Me NC Certified
Nate Brown has completed the General Best Practices for COVID-19 Management certification training, making sure event safety is a prioroty. Learn more about the certification and training at countonmenc.org.