Hope. Support. Safety. Family.
Key Signature Entertainment has implemented Event Safety Guidelines based on the Count on Me NC General Best Practices Training Course that our team completed, along with observing up to date CDC guidelines.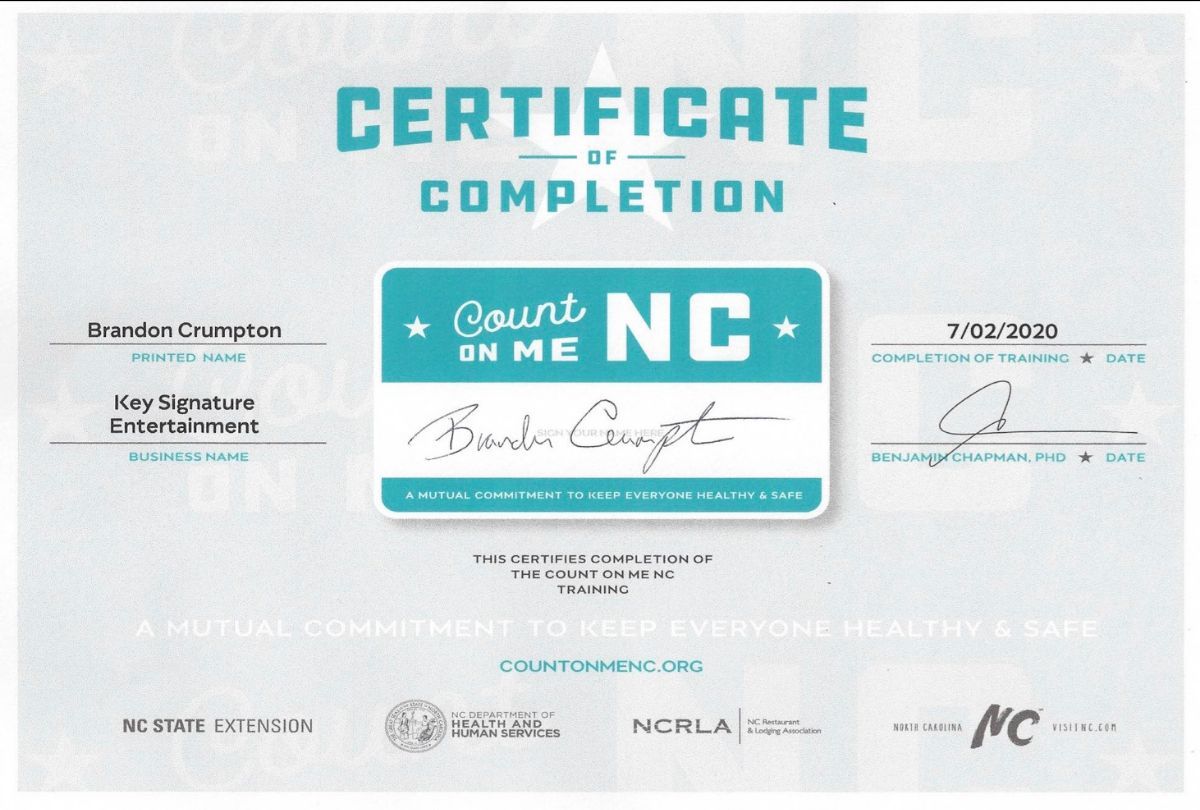 We understand that the live event industry is being greatly impacted by the COVID-19 pandemic, and it is our hope that our community can come together to overcome these challenges. In the meantime, we have transitioned to supporting the needs of event professionals through in-person, hybrid and virtual live music options. Through collaboration, Key Signature has partnered with other event professionals to add dynamic entertainment options to support our KSE family and meet the needs of human connection through music.
---
We recognize that the COVID-19 pandemic poses ongoing challenges within the event industry. We have developed an innovative approach for incorporating live music into events which includes a range of in-person, virtual and hybrid options.
We have reviewed and selected specific artists on our roster who have the capability of facilitating a quality virtual or hybrid live music experience. We have also formed partnerships with reputable production companies including LiveEvents MediaGroup and CSM Production. These companies have the capability of providing audio & video production, soundstage and virtual platform services for just the live music portion or the entire event if need be. By utilizing one of our production partners, you are guaranteed a turn-key experience which includes brand-focused event customization and high-end production quality. To see what these companies bring to the table for hybrid and virtual events, check out the Turn-Key Package below.
---
Complete Package
With this package, we would connect you with one of our partner production company that can take care of all of the video & audio production, soundstage, streaming platform, and all logistics that go along with this. The can produce either just a virtual concert for you, or they are able to facilitate an entire virtual event for you that includes different components, breakouts, and of course live music. Any of our artists can be utilized with this package, so we would be happy to work within your budget range/music preferences for that, and our production partners can provide you with specific quotes for their services based on your needs.
Below are some examples of virtual performances we hosted earlier this year with CSM Production and LiveEvents MediaGroup handling the production.
The Live Event Solution for Live Event Evolution feat. Pete Lents & Jennifer Siebenaler (Intimate Indoor Soundstage Setting)
Hump Day Happy Hour feat. Diamonds & Whiskey with CSM Production (Outdoor Festival/Concert Setting)
---
Limited Package
If you don't need a high-end production company to assist with audio and video, the Limited Package may be just right for you. With this service, a Key Signature Artist provides their own production by way of streaming software. This allows for clearer audio and video quality than an iPhone camera and helps minimize latency depending on the platform used for the event.
Below are a couple of examples of Artists offered through the Limited Package.
---
Basic Package
The Basic Package covers the basics for hybrid/virtual live music. You will receive an engaging and interactive performance by a Key Signature Artist, but they will most likely broadcast from their cell phone or home computer, or a webcam if they have one. For sound quality purposes, artist selection for this package is limited to solo and duo acts.
---
What Types of Events Does This Work Best For?
Dinner Parties
Country Club Member Engagement
Team Building Meetings
Corporate Meetings
Conferences
Cocktail Hours
Themed Receptions
Good Old Fashioned Concerts!
What does live music look like for a virtual event? 
Whether using Zoom or another video conferencing platform to host your client's virtual gathering, the musician will simply access the meeting using the sign-in information provided to them by the host and use audio streaming hardware and software tools to deliver a high-quality 60 to 90-minute* performance for their virtual audience. Through this format, our musicians have the ability to take requests and engage with guests, which allows the guests to enjoy the excitement and human element of live music and events while social distancing from the safety of their own homes.
*For nonmusical unique entertainment options, performance times vary.
Viewer Internet Speed Recommendations:
Zoom recommends a download speed as the viewer of 1.5 mbps, but we recommend having at least 5 mbps for optimal viewing.   You can test your internet speed at https://www.speedtest.net.
---
How do I book a musician for my virtual or hybrid event?
The process for secure virtual entertainment is very similar to booking for live events. First, you must secure a venue – in this case, a video conferencing platform, such as Zoom – where the event will take place, or a production company that will facilitate this for you.
Next, you can find musicians who offer Limited and Basic Virtual Packages by selecting the "Virtual Event" filter on the Live Music Page of our website, or by clicking here. All live bands and musicians can be considered for the Complete Package.
Once you have found an artist who you would like to consider for an event, or if you'd like our team to send you options based on your event, budget, and musical interests, you can contact us using the "Book This Artist" button below, by calling us at (704)568-1968, or by email at info@keysignatureonline.com to connect with a KSE representative. Virtual events are new territory for a lot of folks, so we are happy to discuss which virtual package will be your best fit, answer your questions, and help you find the perfect virtual or hybrid music option for your event!