Matt Bell's energetic electric violin playing recalls the guitar playing of legendary shredders such as Eddie Van Halen and Joe Satriani. 
Q. What style of music do you play?
Q. How many pieces do you typically play as and what instruments are they?
A.  1 piece.  Electric violin with tracks.
Q. Do you play in other configurations?
A. I often play with a rock band, but solo violin is what's usually requested.
Q. Why did you become a professional musician?
A. I've been playing the violin since I was 3 years old.  It's really all I've ever wanted to do.  The best feeling in the world for me is when I can connect with people through my music as an electric violin player.
Q. Where are you located?
Q. Do you travel?
A. Yes.  I've played all over the world already this year (North Carolina, California, New Mexico, DC, Kansas, Tennessee, Kentucky, Brazil, France, Italy, and Sweden)
Q. Why should an event professional book you?
A. I provide a unique, high energy, rock electric violin performance with a mix of original tunes and covers.  I'm an experienced entertainer, having played in front of crowds ranging from a dozen to over 100,000.  I started playing when I was 3, so I have played music literally my entire life.  I'm not just a professional musician, I'm a business person.  I conduct myself with professionalism at all times.  I am easy to reach and responsive.  I'm detail oriented, flexible, creative, and focused on making sure client gets the show they want, doing my best to work around the complications and surprises that are inevitable in this business.  Above all, I want my clients to be blown away by their entire experience with me, from the pre- and post-show interactions to the performance itself.
Q. Do you have the capability of providing your own sound & lights?
A.  Yes, for small venues – up to 50-75 people.  For larger venues, I find that it's better to have contracted sound, lighting, and video as it's more difficult for me to control those things and put on a high energy show.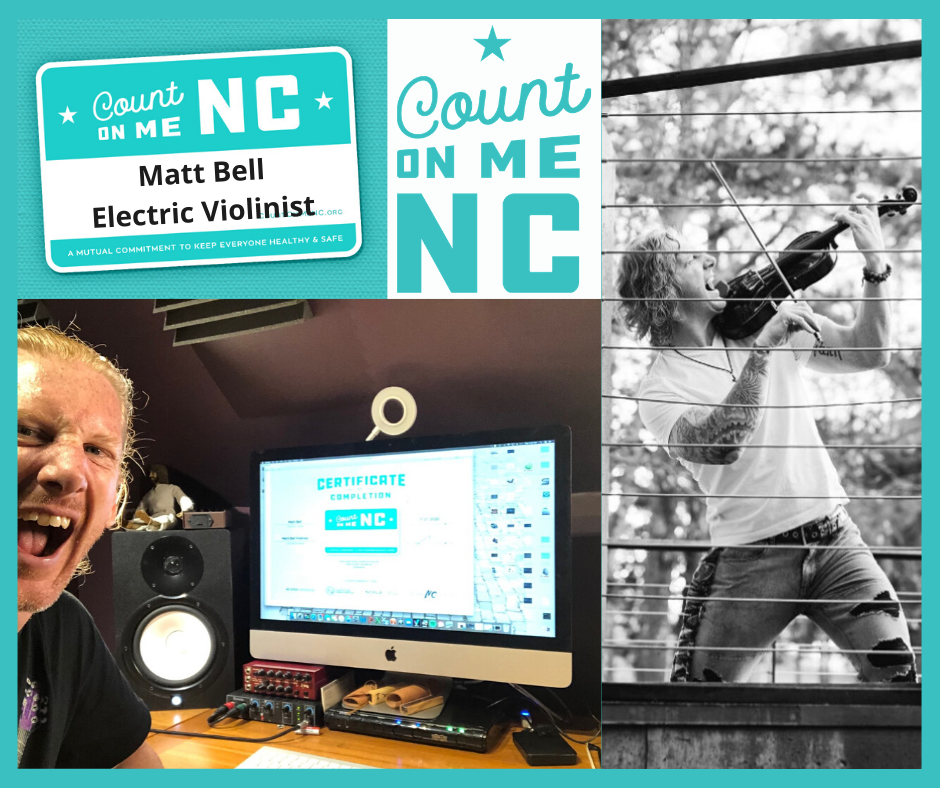 Count On Me NC Certified
Matt Bell has completed the General Best Practices for COVID-19 Management certification training, making sure event safety is a prioroty. Learn more about the certification and training at countonmenc.org.