Entertainment Buying:
Booking National Artists for Public & Private Events
Did you know that you can book a national performing artist for public or private concerts with Key Signature Entertainment?
We primarily receive requests from clients for local or regional artists for their events, but often times, people are not aware that they can also secure national musicians to perform a full concert just for their event.
We think this disconnect may be due to the assumption that "national touring artists" are all inaccessible A-list celebrities with astronomically high fees, extravagant requests and diva-like attitudes, but this just isn't true…most of the time.
So, what even makes someone a "national touring artist?" This term describes a musician or band with a pool of fans in each of several live music markets in multiple states across different regions of the country that are large enough to justify scheduling a national tour, rather than just performing in neighboring cities or states. Put plainly, it means they write and record original music and travel nationally to perform it.
Because of the logistics involved in scheduling a tour, these artists' fees do tend to be higher than those of local and regional artists, but their shows also tend to be much more upscale and polished. As with local and regional acts, pricing is a spectrum and can compare to that of a smaller party band, or up to the price of a new mid-sized car, for instance, depending on the artist.
Benefits of working with Key Signature during the booking process
Representation. We will find, vet and secure the right act for your event on your behalf. Our team members speak the same language as talent agents and touring managers, and can translate things like contract terms, travel, hospitality and backline rider requests.
Experience. We've been working with artists from the local level to the national level for over 10 years.
Organization. Our proposals are clean and easy to review, and we can schedule out an entertainment run-of-show for you as part of our process.
Quality service. We run a tight ship, with friendly service and quick turnaround times that have earned us recognition as a CRVA Service Provider of the Year (2018).
Day-of logistics that Key Signature can help take off your plate
On-site entertainment staffing and management.
Fulfilling hospitality rider requests.
Run-of-show schedule management.
Ground transportation to and from the venue.
Coordinating with production, backline, and other entertainment-related vendors.
*A note on music consideration: these artists do not primarily play covers, but may include some at their own discretion. Concerts are often no longer than 90 minutes.
Here are some blog posts for you to take a look at, highlighting some of the many national artists that Key Signature Entertainment has booked on our client's behalf over the years. Check them out, and contact us if you're ready to consider having a National act at your private or public event!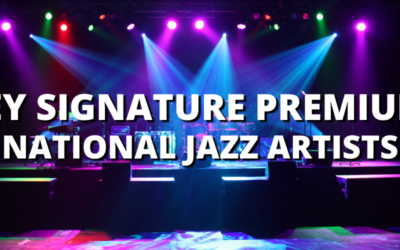 Key Signature Premium: National Jazz ArtistsWe primarily receive requests from clients for local or regional artists for their events, but did you know that you can book a national performing artist for a private performance too? Depending on the event, these artists...
SUBSCRIBE TO OUR NEWSLETTER

Join The Key Signature Mailing List CONTACT US
Key Signature Entertainment
8510 McAlpine Park Dr. Ste 201
Charlotte, NC 28211
704-568-1968
info@keysignatureonline.com