In-person and hybrid events can be a key solution to improving morale and human connection during these uncertain times. Despite the differences in government-ordered gathering restrictions between North and South Carolina, event professionals in both states are faced with a common challenge: finding the best way to host events safely, effectively and efficiently while providing guests with comfort and peace of mind.
For everyone, multi-site and multi-zone events can be a game-changer.
What is a "multi-zone" event?
A multi-zone event is a style of multi-site function where guests are dispersed evenly across multiple dedicated event zones at one venue. Because it's similar in structure to a multi-site event, the goal of a multi-zone event is to provide a similar experience for guests at all event zones using a combination of virtual and physical entertainment and decorative components while maximizing the efficiency of a venue's space for social distancing.
How are multi-zone events different from multi-site events?
The main differences between multi-site and multi-zone events are a matter of geography and partnerships. When coordinating a multi-site event, it may be necessary to secure partnerships with multiple venues, decorate and cater their spaces, and assign a number of guests to each one. When coordinating a multi-zone event, these logistics take place at one venue and the main thing to consider is how to divide the space into the dedicated zones.
How are multi-zone events a safer option?
By dedicating multiple zones (e.g. splitting up a ballroom) or utilizing preexisting ones (booking multiple small conference rooms) and assigning guests to each, a multi-zone event can allow for more control over the capacity of each zone and makes it easier to trace the whereabouts of guests if needed. This can be useful for events of all sizes.
Where does live music fit? 
Like with multi-site events, technology can be key for executing live music for a multi-zone event. Because the goal is for each event zone to have a nearly identical experience across the board, the first things to consider are the genre of music and number of musicians. The next step, selecting the musician(s), depends on the configuration of the zones. For example, if the event is taking place in a divided ballroom, it might make more sense to have one band stream to each zone remotely from a sound stage using television monitors and satellite speakers instead of different musicians in each zone that might clash with one another. In the case that each zone is a separate room, it's then more feasible to consider using multiple musicians or bands. To handle the audio, video and other production hurdles in either scenario, turn-key production is offered by one of our sound production partners.
Still have questions or want to know what Key Signature is about? Give us a call at 704-568-1968 or visit our website to learn more about Who We Are and what we're cooking up to keep live music alive in the ever-evolving world of Virtual/Hybrid and live events!
For more updates on what we're up to here at Key Signature, connect with us via social media!
We're Count On Me NC Certified!
Each member of Key Signature's full-time staff and some of our musicians like Bradford Ray Bailey have completed the General Best Practices certification through Count On Me NC.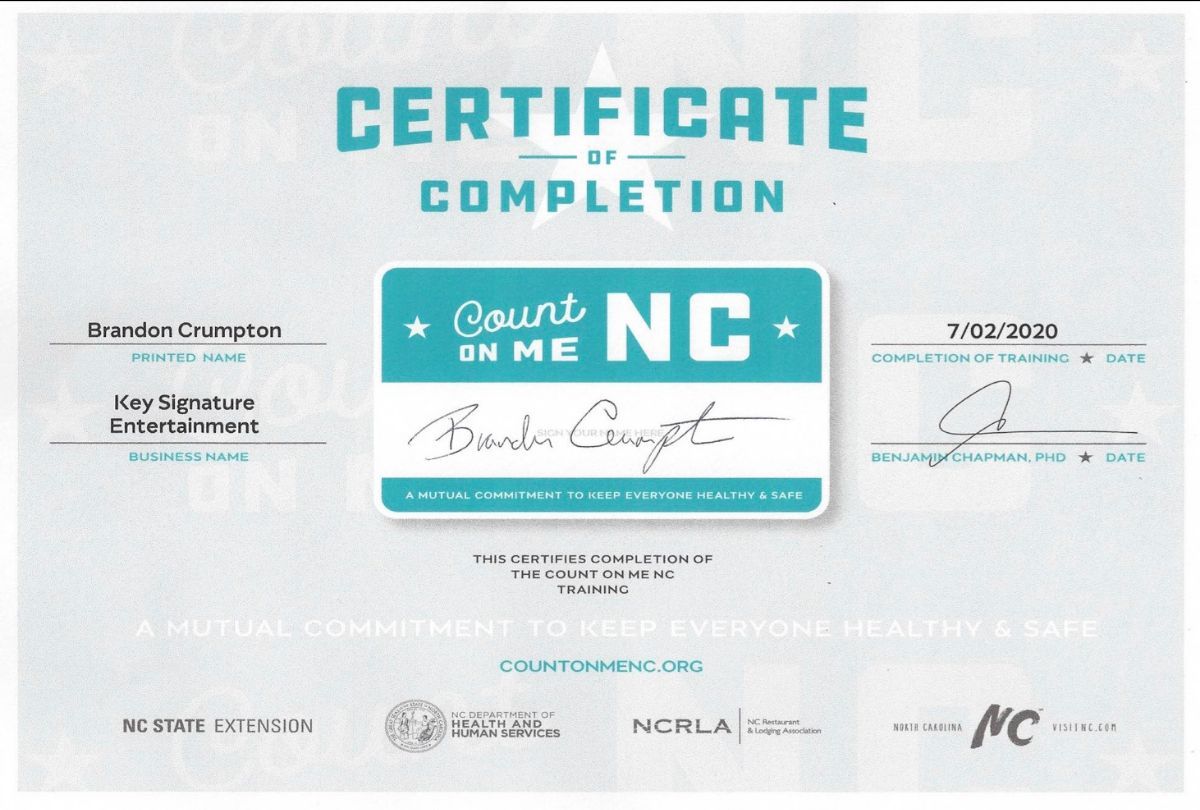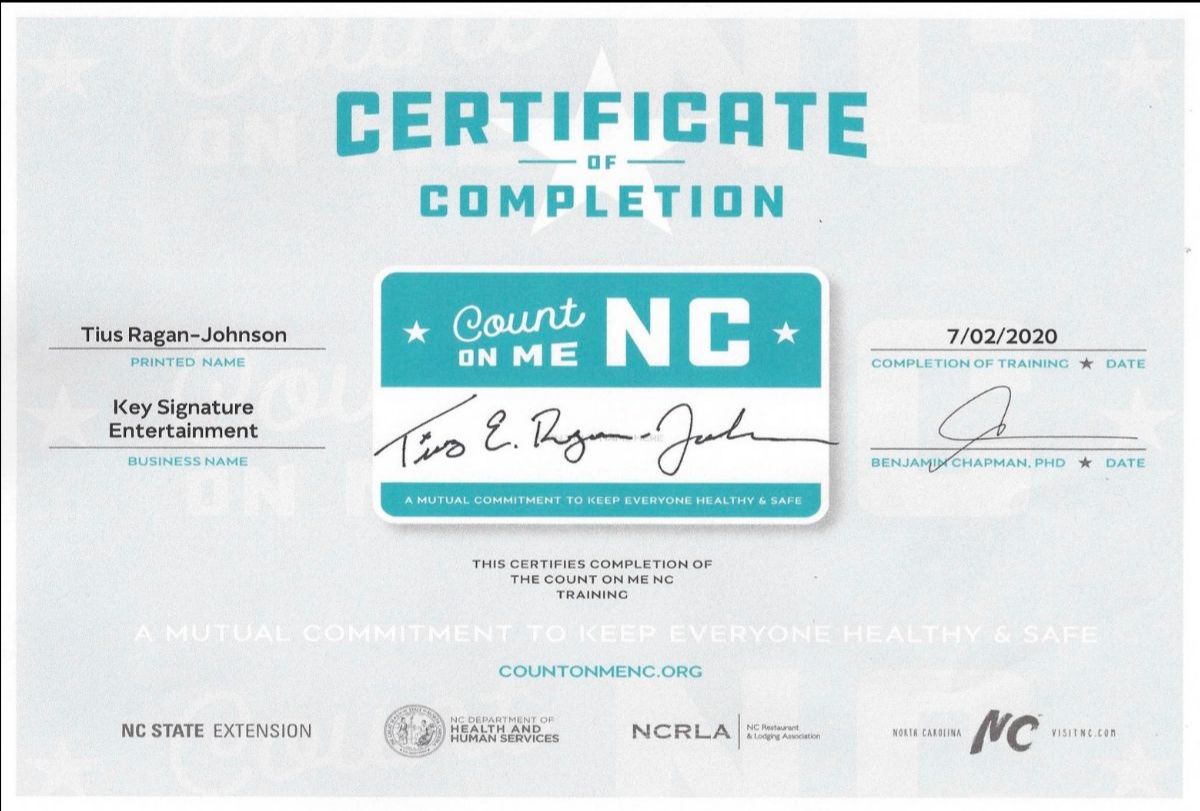 COVID-19 Event Safety Guidelines (signed by artists on all contracts)
Artist to wear face covering at all times when not performing.
Artist to disinfect all chairs and other equipment provided by Purchaser prior to use. 
Artist to disinfect all chairs and other equipment provided by Purchaser after use.
Artist to practice social distancing and remain at least 6 feet away from Purchaser and guests when possible.