As we have discussed over the past few weeks, multi-site and multi-zone events can be a game-changer for event professionals who need safe, effective and efficient ways to hold events in a time of COVID-19…but, how many of these "sites" do you really need?
Since each state's gathering restrictions vary from its neighbors, that can be a tricky question to answer. For example, North Carolina's Phase 2.5 order currently limits mass gatherings to 25 guests indoors and 50 guests outdoors as of this writing. Conversely, South Carolina's latest accelerateSC guidelines allow mass gatherings of up to 50% or 250, whichever is less. All things considered, we will observe North Carolina's latest government order for the sake of these examples, although these models can apply to events happening in any state.
Click on the images below to enlarge.
Example 1A: Virtual Entertainment with a Home Base
Example 1A provides a hybrid of in-person social and virtual entertainment for an event with 75 expected attendees. In order to follow the current NC restrictions and still hold the event, the client must assign their guests to one of three similar venues (i.e. one of Charlotte's many local breweries) in groups of up to 25 each. For convenience, they can assign guests to a venue based on where they live.
Picture each venue or "site" with identical catering and decorations, along with sanitation stations, floor markings and furniture that encourage socially distant networking. The "Home Base" serves as your headquarters. From this off-site location, you'll have an MC to address the guests remotely, speakers to give presentations, hosts moderate virtual games, and a live band performing for all sites to enjoy. Alternatively, the band may perform off-site at a custom sound stage managed by a top-line production team. When using a Key Signature musician for this model, our production partners can offer this as a turn-key experience to ensure that the entire event runs smoothly from start to finish.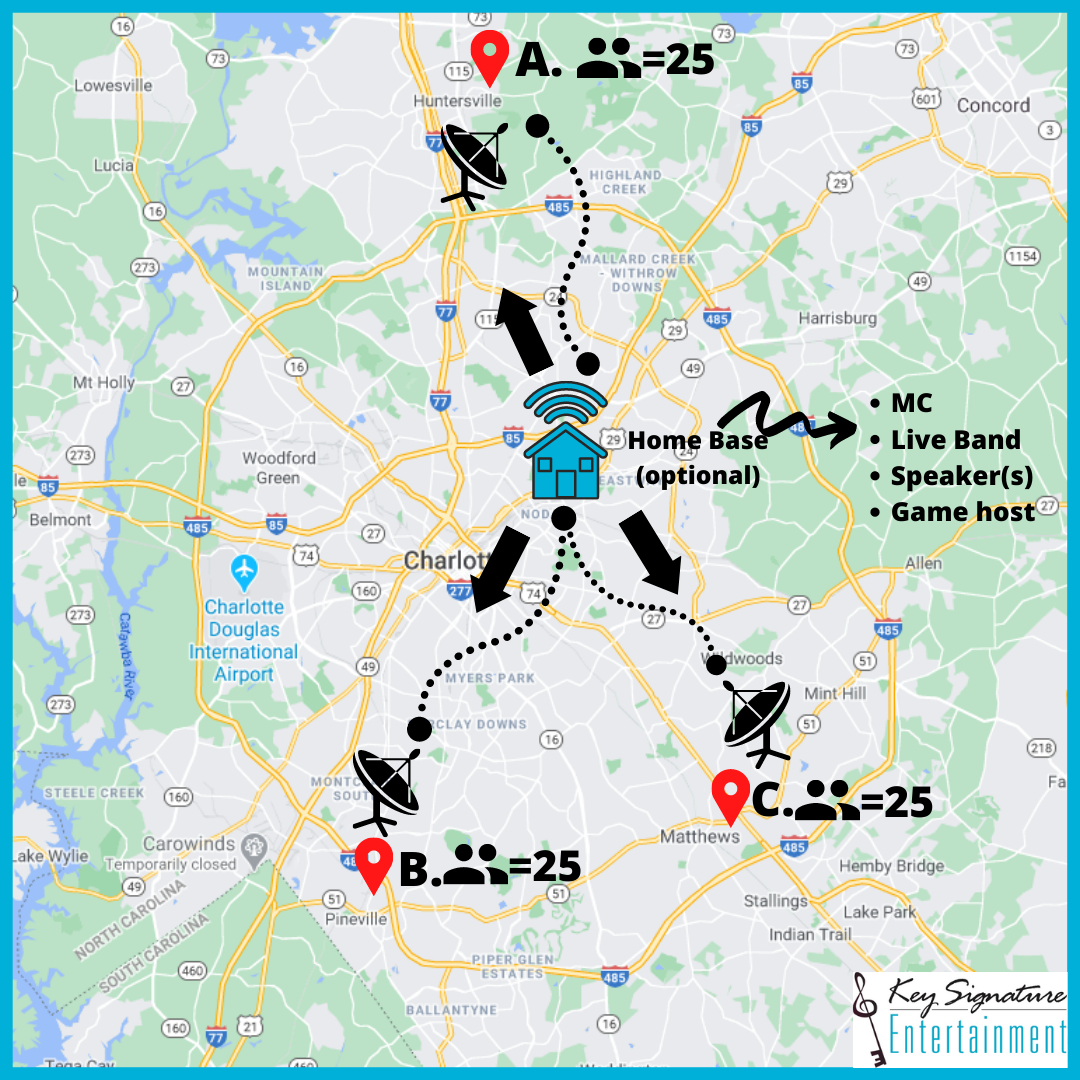 Example 1B: Live Entertainment with a Home Base
Example 1B is very similar to the first, but incorporates a live band and any team-building activities physically at each site and maintains the home base for any speeches by event sponsors or motivational speakers. This model also offers a great opportunity for the individual venues to talk about their site.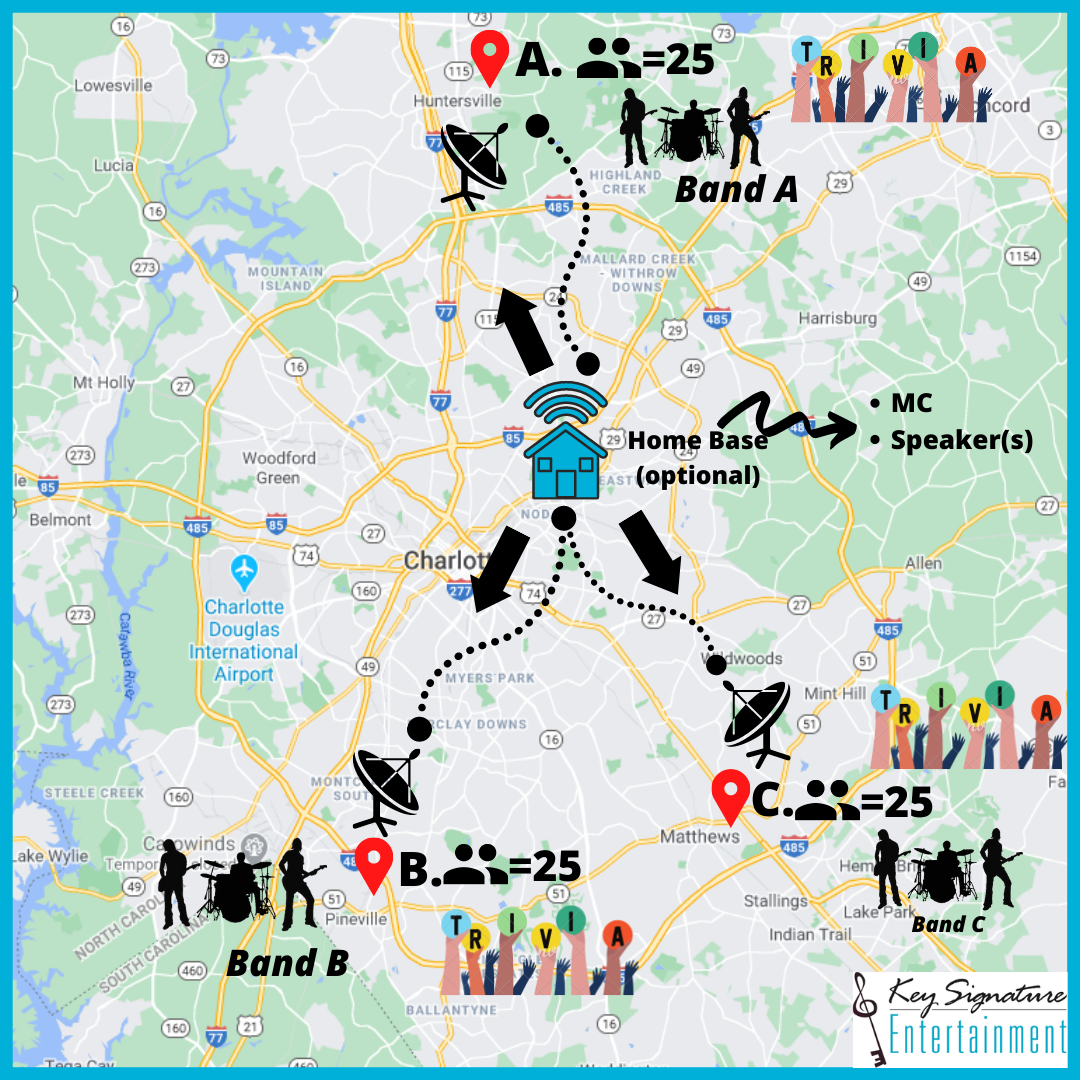 Example 2: Remote Streaming
Picture Example 2 as a larger multi-site conference with 125 top executives expected to attend. You're able to disperse them across five different 4- and 5-star hotel conference rooms for engagement sessions each day, and decide to follow a Remote Streaming model in order to keep the sites connected and the head count under control.
We've all had our fill of virtual meetings over the last few months, but the beauty of this model is that presenters and entertainers don't necessarily need to be local or even regional to provide a high-quality virtual product. With travel costs taken out, there's more room to consider higher-end entertainers and presenters who can offer an awesome virtual experience that can't be found locally or regionally. Key Signature Entertainment is well-adapted in securing national live musicians and have production experts on our side who can help us offer a turn-key virtual entertainment experience. For more information, send us an email or visit our website.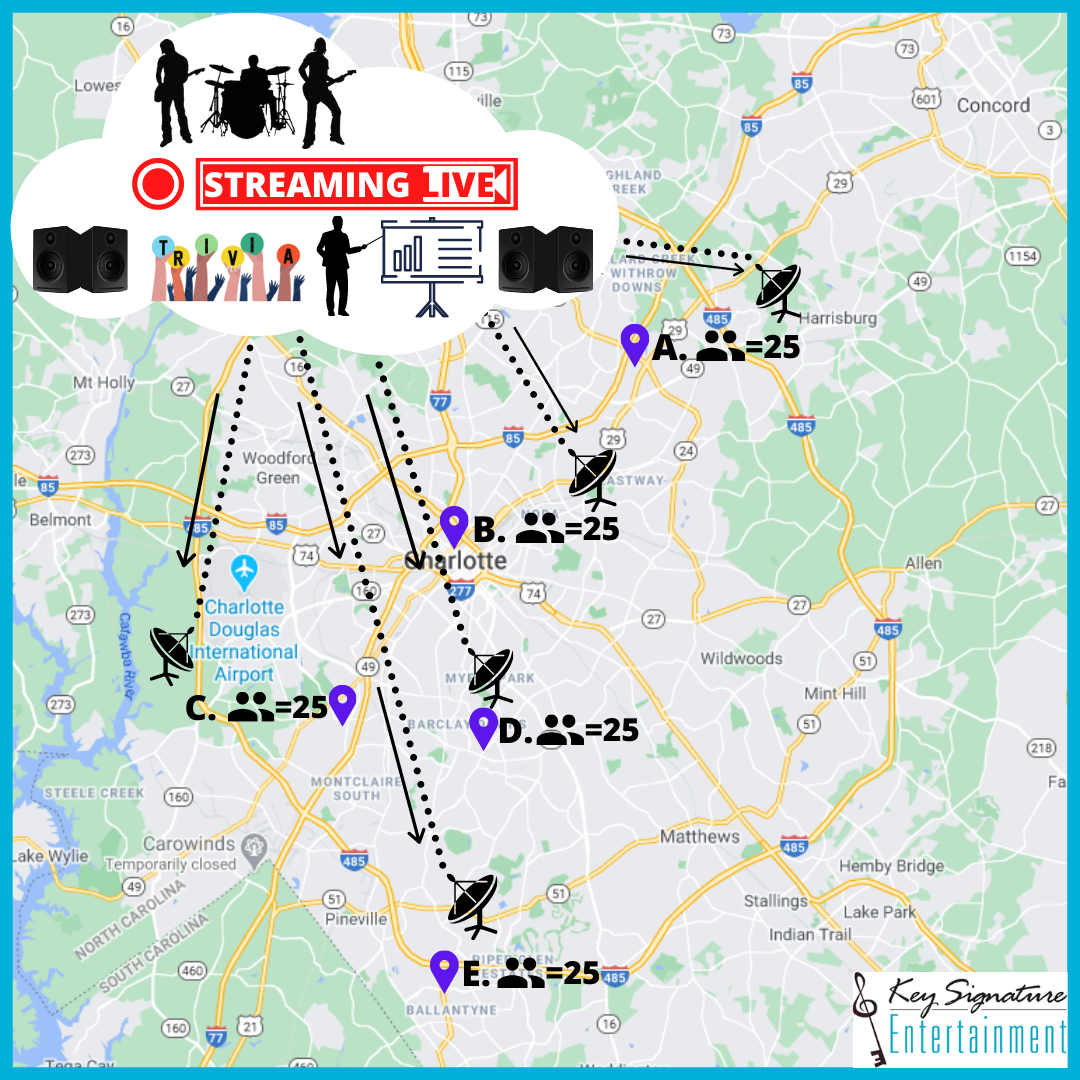 Example 3: Outdoor Social
Perhaps the simplest example of a multi-site event follows the Outdoor Social model. We imagine a scenario in which a client is seeking to build morale among its 150 employees, who have all been working from home for half of the year. A socially distant golf outing is a fantastic team building activity to consider because golf clubs have already begun to incorporate additional safety measures like social distancing into their daily operations. Since there's no need for internet or presentations in this scenario, guests can enjoy the outdoors, fellowship, a few holes of golf, and perhaps a catered socially-distant gathering with music courtesy of a Key Signature musician at the end of the day.
As a reminder, these numbers can be reduced to accommodate more event sites for the sake of logistics.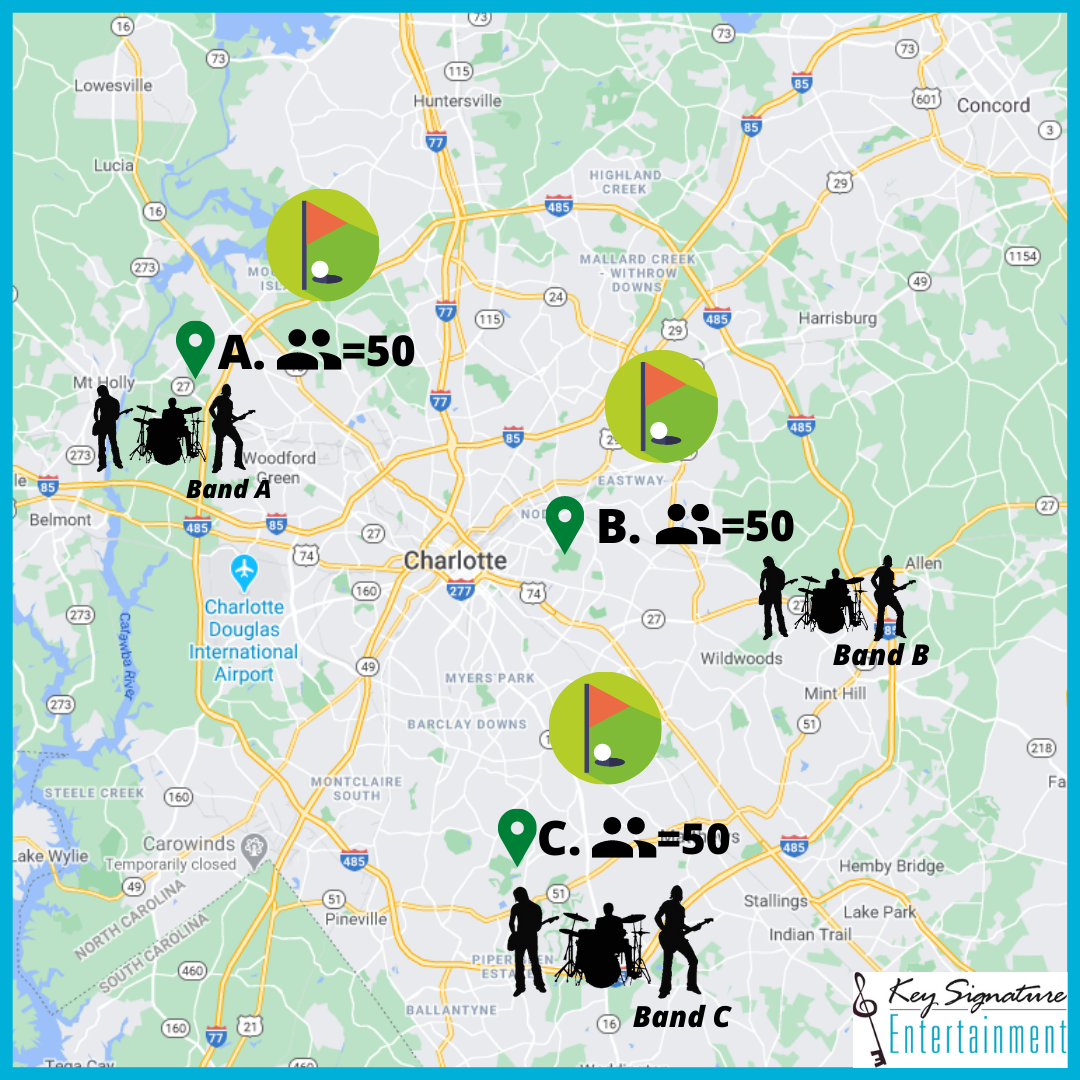 Still have questions or want to know what Key Signature is about? Give us a call at 704-568-1968 or visit our website to learn more about Who We Are and what we're cooking up to keep live music alive in the ever-evolving world of Virtual/Hybrid and live events!
For more updates on what we're up to here at Key Signature, connect with us via social media!
We're Count On Me NC Certified!
Each member of Key Signature's full-time staff and some of our musicians like Bradford Ray Bailey have completed the General Best Practices certification through Count On Me NC.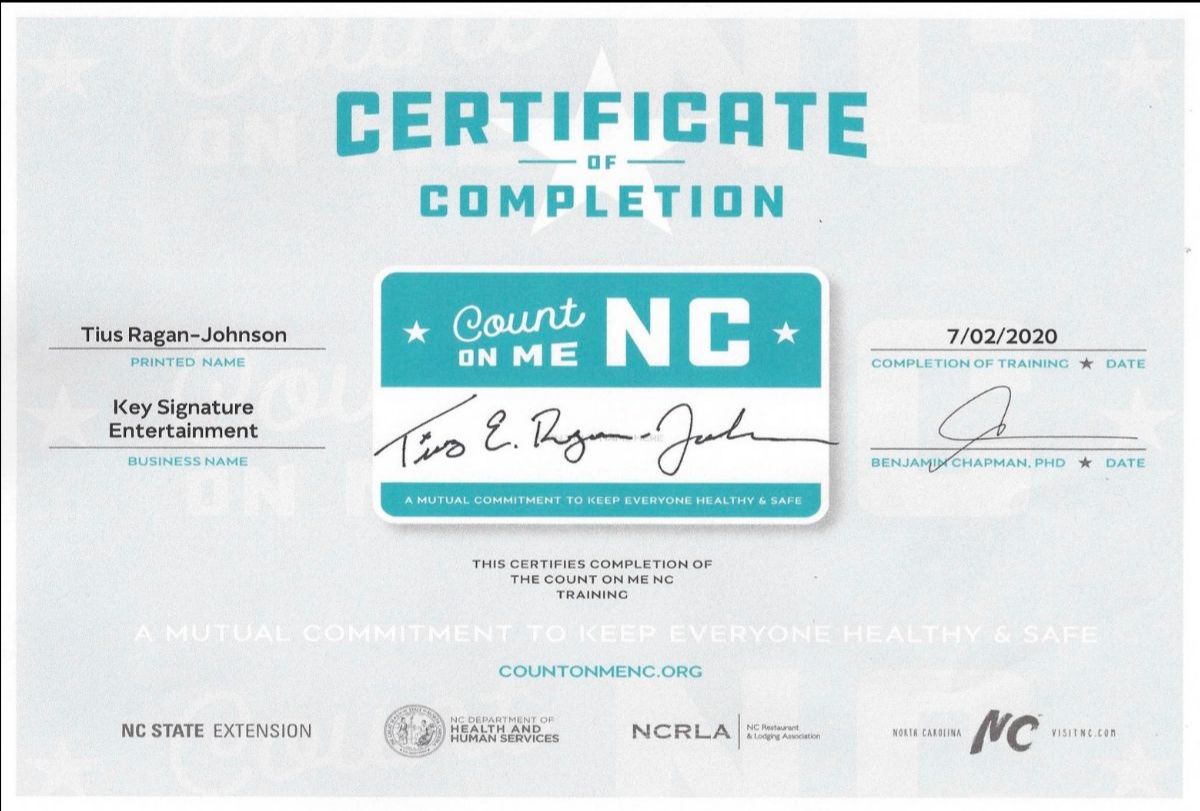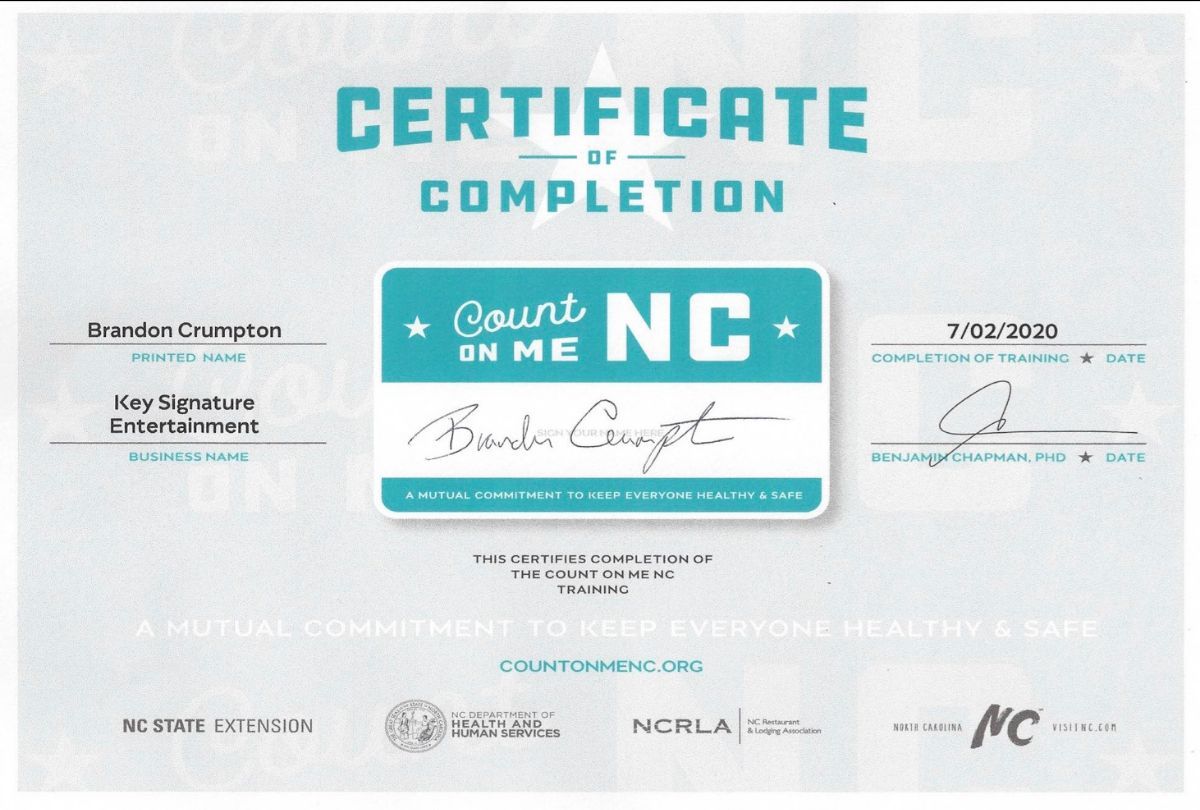 COVID-19 Event Safety Guidelines (signed by artists on all contracts)
Artist to wear face covering at all times when not performing.
Artist to disinfect all chairs and other equipment provided by Purchaser prior to use. 
Artist to disinfect all chairs and other equipment provided by Purchaser after use.
Artist to practice social distancing and remain at least 6 feet away from Purchaser and guests when possible.